In the first post in this series we looked at popular platforms like blogger, WordPress.com, and Typepad and highlighted the most common issues that my web design clients have had with them over the years.
We also broke down who each kind of platform could be best for – so if you're a food blogger who hates technical details or a consultant who loves being in the mix on everything you touch? You can pick a platform that works with your personality and that supports your goals.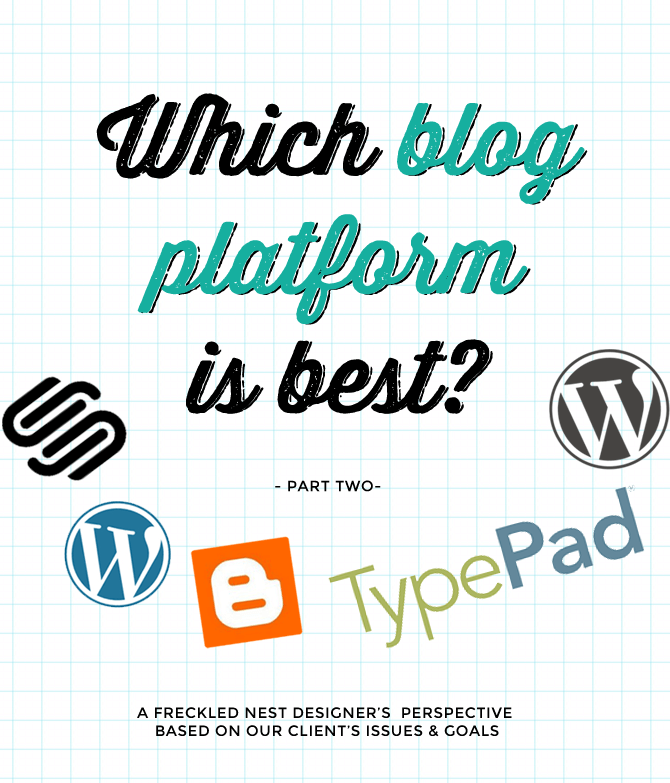 Part One of this mini-series worked through the most common platforms for bloggers who are just starting out. We also worked through what a platform is, and what hosting is, so if you need those basics you'll want to explore this post first.
This part of the series will look at the two big platforms that we've seen clients exploring to in the past year, how they could make your life easier (or not!) and what, exactly, makes them worth a second look.
WordPress.org
When you hear people cheerleading for WordPress, this is what all the fuss is about! There are two kinds of WordPress (see our first post in the series) and this version is one that you need to purchase your own web hosting to use. You can install it manually, but it's available as a handy one click installation with most hosting package purchases.
This version of WordPress makes it's inner workings available to developers, just like Apple does with the App store developers so they can create apps that let you use your device in different ways. In the Wordpress world these are called plugins, and there's a huge range of products and services that are available around them to expand and customize everything about how you blog or run a small business.
Want to create a forum, sell an eCourse, create subscriber only content, or have your content featured in a slideshow? It's all available to you here, and there are plenty of professionals ready to support you. (Hint: We're those pros!) WordPress is free, so your only cost is hosting, which makes it the same price as or more affordable than Squarespace to boot.
One note: People sometimes get worried about not having anyone to help them with their WordPress blog… but your web host has a whole customer service & technical support team that will do that! They are helpful, free, and there to make sure everything works – even if they didn't break it. We've personally found netfirms & godaddy to be very helpful over the years.
Best fit for:
Anyone who's open to their blog turning into a business, bloggers who are curious and excited about learning new skills over time, people who are open to partnering with a professional.
Not great for:
People who find having lots of options overwhelming (there are lots of options at every turn with this one!), if you're too busy to problem solve on your own and aren't willing to bring in support if you get stuck.
Squarespace
It's been around for a long time, but if Squarespace seems like it's the new kid on the block, that's because it's making a huge investment in building its profile on the world stage. And it's worth paying attention to, because it's approach to blogging and online business is compelling. (And beautiful! Have you seen their ad campaigns?)
Squarespace has some great advantages. You get dedicated support from their team, everything is included in what you purchase and how you even have the option to expand out into online sales. The main difference between Squarespace and WordPress, as we see it, is that Wordpress lets their community get more involved and create more solutions for its users. So the rich marketplace of plugins that let you turn your WordPress blog into an online course, shop, or anything else you can dream up with all the functions that make that possible? They're not an option with Squarespace. But you can work with a designer to make your space completely unique, and it offers more flexibility
But with all the great built in features, flexibility – and the possibility of everything those great brains are working on now? We bet this platform is just going to get more and more attractive.
Best fit for:
Bloggers & business owners who want flexibility and the security of technical support, beginners who want to be positioned to adapt to any new direction they want to grow, people who are open to partnering with a professional.
Not great for:
If you want a completely free blogging account.
Our opinions are all quirky, imperfect and our own – but we hope that they help make the decision of which platform to choose for your blog a little easier! And if you're looking to switch platforms? Email my customer service team at Hello at KylaRoma.com – we offer hourly WordPress support on retainer, and on demand, so you've always got someone on your team who gets it.