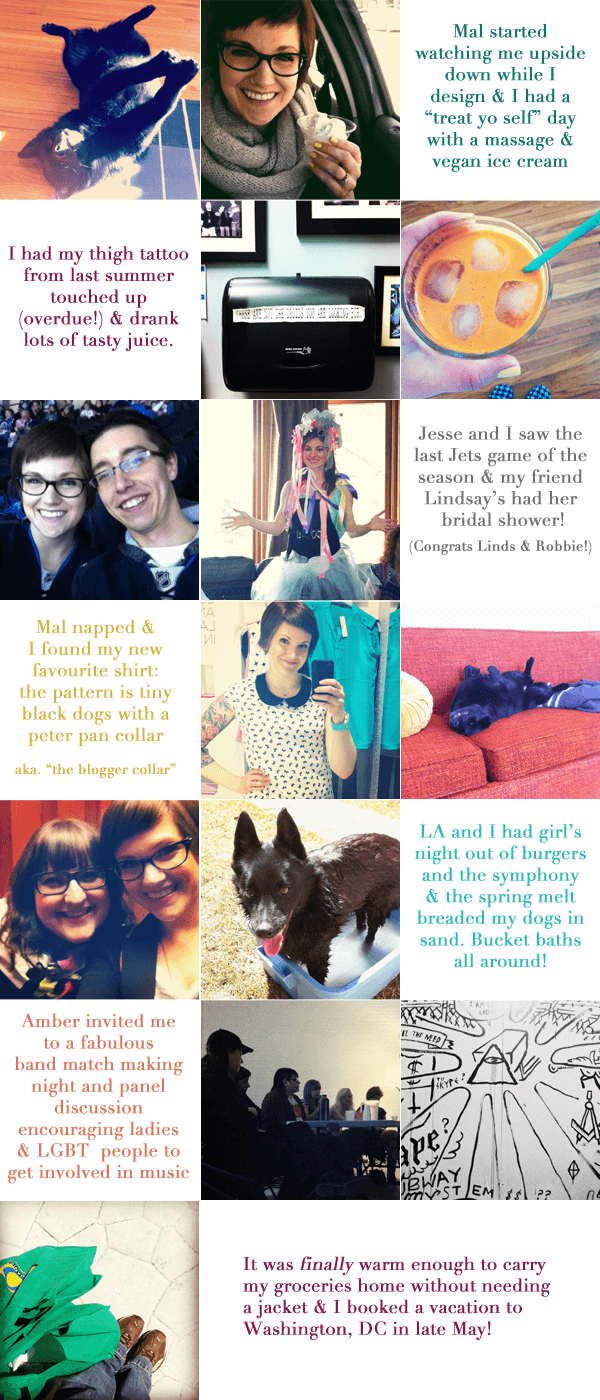 This month felt: Spacious! It went by quickly but I usually felt like I had enough hours in the day to get things done, which qualifies as a superpower in my books. I had a positive month filled with trying new things and going out to new places. It felt so good and like a treat to be really present and enjoy my life as it is now. When I remembered not to get lost in thoughts, isn't that always how it is?
The biggest surprise was: Booking a trip to Washington, DC in May. Jesse & I had considered it but because we haven't taken much time off work in the past few years it felt extravagant to schedule a trip on a month's notice. I can't wait to finally meet Becky for the first time in six years of friendship, and to meet Freckled Nest's customer service manager Kelsey in person, or to go exploring all the museums. And I'm sure there will be lots of good food had. I'm beyond excited!
My favourite discovery was: Exporting my blog subscriptions from Google Reader (RIP) to Feedly, and discovering that somehow I'd only been getting a fraction of my favourite blog's updates! My full subscription list has been restored, and the internet doesn't suck, I just wasn't getting all of the awesome I'd signed up for.
I was challenged by: blogging regularly. I love it, but I've realized that if I don't do it on the weekend it doesn't happen. Lesson learned!
I celebrated: finishing my first journal since I was 18 or 19
I read: Anna Karenina by Leo Tolstoy (started it at least!)
I was watching: Survivor & New Girl (aka. The Nick Miller Show)
How was your April? What would you like May to feel like?
I'd love a joyful, effortless May. Also warm! I'm tired of this fake spring nonsense, let's get into real spring and early summer weather! Since I can't control the weather I'm going to make May a month full of friends, dance parties, and being brave in lots of little ordinary ways.