Doesn't passively attracting new customers to your website sound great? And at first glance, SEO optimization sounds complicated and technical. But they're one and the same – and SEO doesn't have to be hard. In fact, it's quite easy to start. And it means that thoughtful small business owners and bloggers can win more customers with a few moments of research each month.
Don't worry, it's not complicated and isn't too good to be true. But pay attention to that feeling, because most people, including your peers or competitors, have it. It makes them think website optimization is complicated and technical, so they avoid SEO altogether.
The reality is that it's easy and profitable to build a foundation of great SEO for your website. The three simple actions that follow in this post can put you ahead of the competition.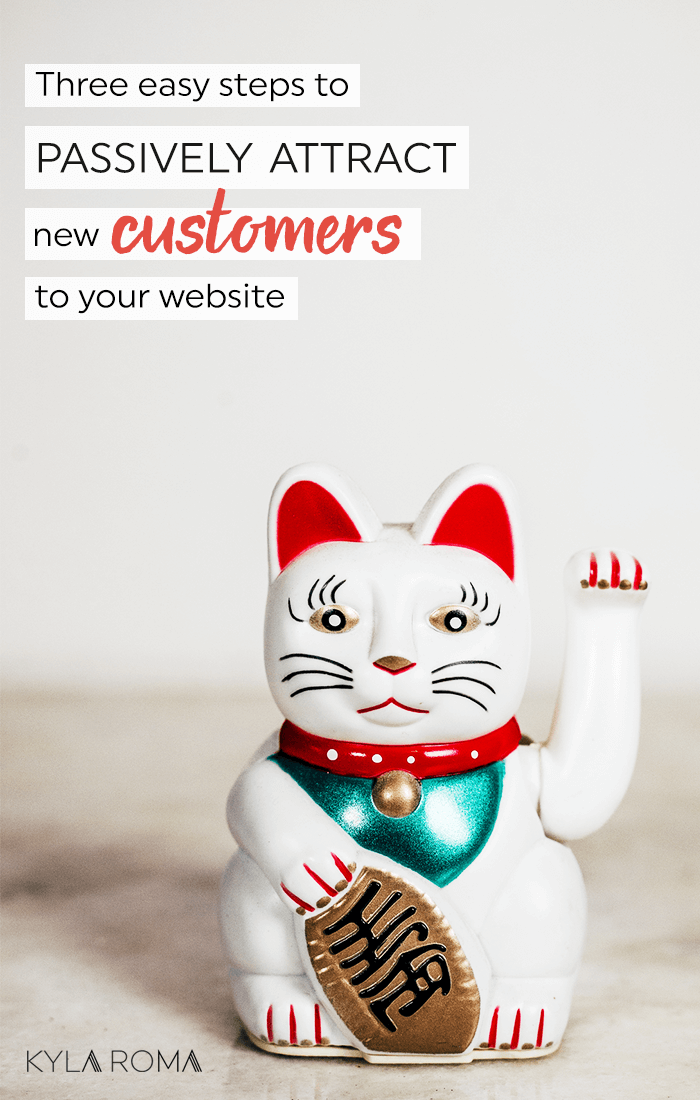 Even better? Your website will have a built-in, passive advantage for years to come. That's why SEO is something worth paying attention to, because with a few simple steps you can make it easier for potential customers to find you.

Three steps to passively attract new customers to your website:
#1 Ask yourself: "If a customer wanted to find me in Google, what words would they type?" then add those phrases to your website.
Most micro-business owners create their website content, and for many, it's a stressful job on their to-do list. So stressful in fact, that many miss the obvious and don't directly state what they do. Without that, it's very hard for your customer's to have a yes moment when they find your website.
It's time to change that! Here's how to start:
Brainstorm words and 2 – 3-word phrases that describe the products or services you offer

Consider adding your city or country to help locals find you.
Bonus tip: Make sure to keep important words together. If you're a hair stylist, breaking up the words "hair" and "stylist" in a sentence will block search engines from recognizing them as your important keyword phrase, hair stylist.
What it looks like in the wild:
Sticking with the previous example, let's imagine you're a hair stylist. You want to be known for rainbow and pastel hair colour. Simply posting the results of customer's technicolor hair with descriptions of the work to a blog or Facebook means that local ladies can suddenly find your business. And that makes it easier for your business to thrive.
For example, I searched: Hair stylist rainbow pastel Winnipeg
And look what I found: Hair by Miss Kelly O, and she's a local lady too!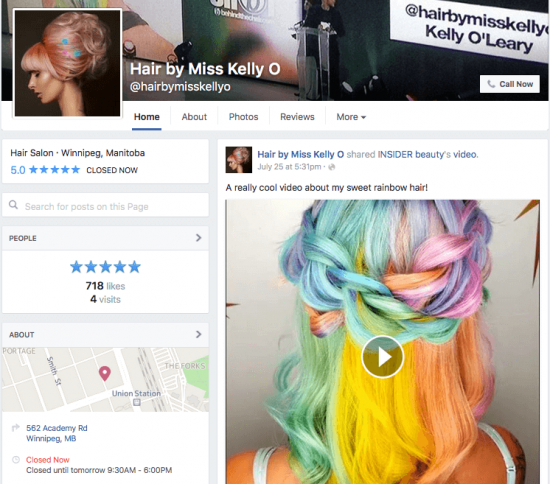 If she didn't share what she does with a straightforward description, I would have never found her. That's the difference that SEO makes. Include relevant phrases that describe what you do, or your services several times throughout the main pages of your website. Your home page and about page are perfect places to start, and testimonials can be a great way to naturally wave in mentions of specific services.

One note: Sharing on social media is great, but algorithms are fickle and can change in a moment. It's important to put at least as much effort into publishing content on your website as on any social media platform.
#2 Publish actionable answers to your customer's burning questions.
What do you do if you have a question that needs solving now? You 'Google' it, right? We've all done it. It's how most people find their answers. Wouldn't it be cool if those people, looking for answers, ended up on your website or blog? Not only will they get their answers, but your business can also thrive as a direct result of helping them.
When customers find you right at the moment when they need answers the most, you automatically place yourself as an expert. It builds trust and inspires loyalty.

This doesn't have to be time-consuming or mean that writing becomes a part-time job. Working on writing one answer to one common question or concern each week or even every other week will make a huge impact. (Doing this over the years has made it easy for potential clients to find me, and is a big part of how I can work for myself now!) This small action can be one of the most important investments that you make in your business. Even if you don't get any comments, that content is going to work for you in search engines.

What it looks like in the wild: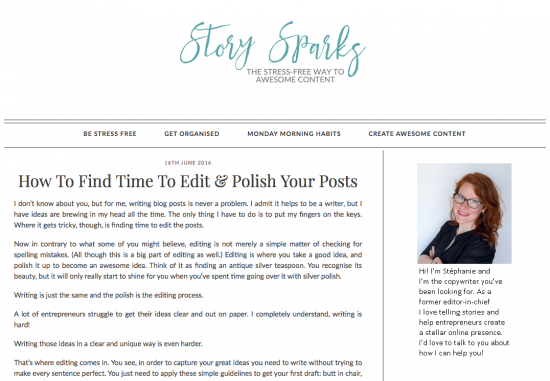 Story Sparks is where Stephanie, a copywriter and ghost blogger for business owners, shares her services. On her blog, you'll find actionable content that helps people struggling to make time for their blog. Stephanie just happens to be available to write your blog for you if you need support. How convenient!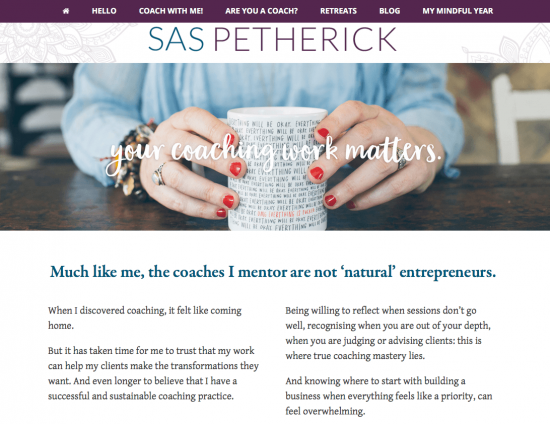 Sas Petherick, helps thoughtful life coaches find clients and then helps them build their businesses in a way that's authentic to them.
Her best clients have read a lot and tried a lot, and are ready for a real change, so her no-nonsense perspective and actionable help make her stand out even more.  
#3 Join the conversation where it's already happening.
One of the complaints new business owners have is that publishing content can feel like it will take a long time to pay off. So don't rely on one thing. Stoke the fires in a few key places, including part taking in conversations that are not on your website.
Joining conversations in networking groups, Twitter, and other social media platforms can do huge things for your business. Not just regarding contacts, it will also make people aware of the content you're putting out, and the more people visit your website or link to it from theirs, the higher Google values your work.
This doesn't mean that you should spam social media channels with your links. (I know you wouldn't, but just to be clear!) Instead, you can try partaking in Twitter chats, conversations happening in Facebook groups, or being active in online courses or forums that strongly relate to your niche and business.
Guest posting is also a great way to take part in conversations along with showcasing your knowledge and expertise to a new audience.

What it looks like in the wild: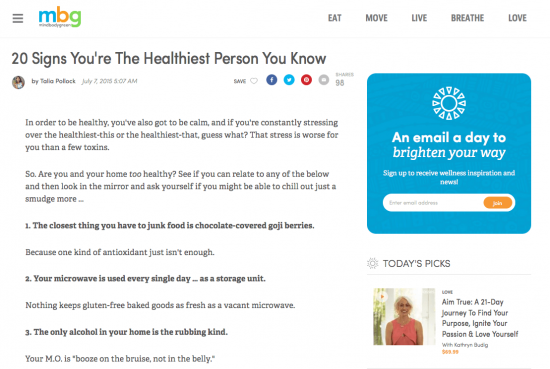 Health guru Talia from Party in my Plants knows that her best customers are curious about healthy eating, so she publishes posts that are helpful and that showcase her sense of humor at other websites like Mind Body Green. She adds to their content, and they send her traffic back to her funny, actionable (tasty!) YouTube videos.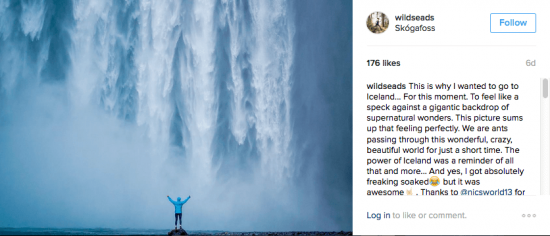 Ultra-marathoner and physiotherapist Sarah Seads posts gorgeous images from her trail running explorations to her Instagram account that showcase her living her values. It builds a relationship with her customers and keeps her top of mind with her fellow adventurers.

Paying attention to SEO can seem complicated, but the fundamentals of it are simple. Share your work. Describe how you help. Share help related to what you offer. When you do that, every time you hit publish is one step closer to attract new customers and readers.
Do you have SEO questions? What are your biggest barriers to getting started optimizing your posts? Unsure where to start?
Let me know where you're stuck with SEO! I'll reply with answers to your comments, and help you get started.