It's easy to see the obvious parts of a business from the outside. The blog posts, sales pages, launches and social media updates are highly visible. But, what do routines for business owners actually look like on a normal day? How does a successful business owner act that sets them apart? In many ways, each business is like an iceberg. What we can see is just the most obvious, the tiniest slice, while 90% of it remains unseen.
That mysterious 90% of your business is made up of your systems. It is your habits, routines and everything else we actually manage to check off our to-do lists at the end of the day. Routines for business owners are what allow your business to thrive or make it difficult to survive.
Since you can't observe the systems, habits, and routines of other successful business owners, it's tricky to know how to spend your time wisely. That unknown can take smart, savvy people down the path of hoping, wishing, wondering, assuming and ultimately wasting huge amounts of their time. I spent the first few years of my business owner life being sidetracked, focusing on the wrong things. This created a life that was short on time, high on stress, and low on funds.
Well, that stops here!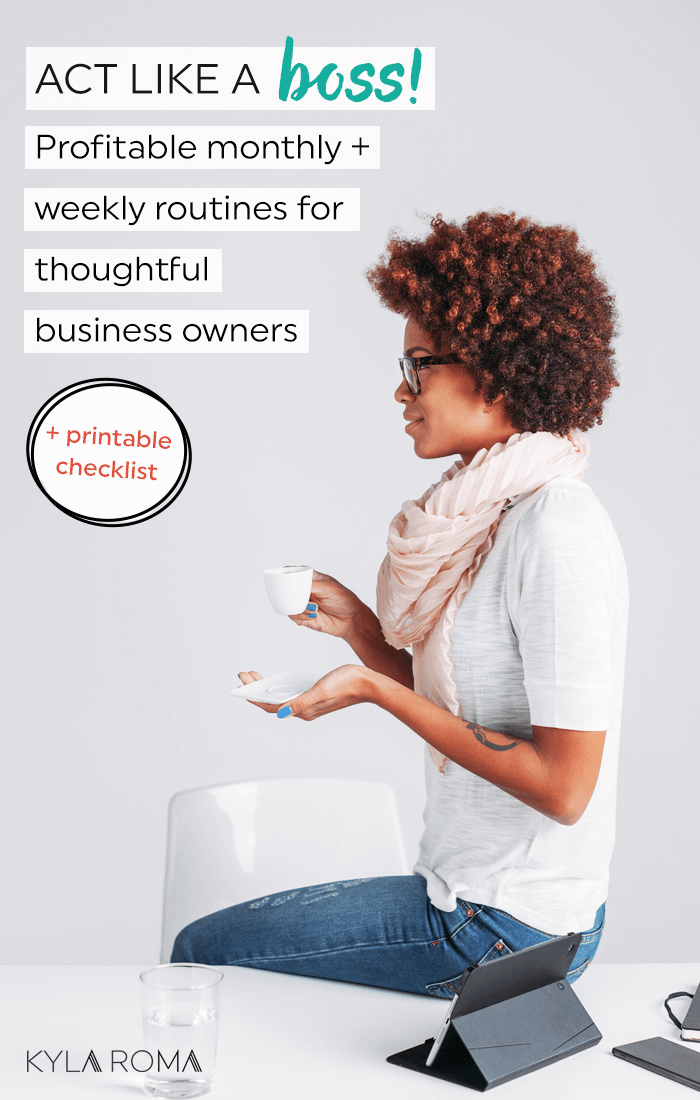 I've bootstrapped two profitable businesses. I rely on using my time to stay productive with a purpose and steer clear of busy work. Today, I'm taking you behind the scenes in the monthly and weekly routines of business owners which will help your dreams grow and keep you out of reaction mode.
The following are monthly and seasonal routines for business owners that I use to stay on track. All of these concepts you can swipe, experiment with and make your own. I hope these help to create systems and a routine that works for you, making that 90% of your business run as smoothly as possible.
Monthly Routines for Business Owners
Before you worry about adding more to your crammed daily to-do list, you can take a deep breath. To make it easy for you, I've included a couple of the top level monthly jobs I do in my business that can help you propel your business forward. Complete these top level routines for business owners once a month, and you'll have a clearer picture of what's happening in your business, along with where it's going.
Review how much you've earned this month
I love to take the guesswork and worry out of running my business. I know you will too. The only way you can know if your business is growing is to look at the numbers. This is listed first because at the end of the day if you lose track of this, it's impossible to make informed decisions. Set the excuses aside, get a simple piece of software to help you, and know your numbers!
Your job: At the end of every month look at how much you've been paid by customers. Write that number down. Then ask, how does it compare with last month's revenue? What had a positive impact? How can it be repeated in the next month? What would you like to earn next month? What could get in the way of this target?
Keeping a close eye on your revenue streams will make sure you'll never end up having nasty surprises when bills arrive. This will mean you can stop guessing and focus on taking action. You'll always be in the know while having the time to adjust – or celebrate!
Review how many times you asked for a sale & set a goal for next month
People are following you because they need help with what you offer. However, if you don't share the most effective ways you help them, your potential customers will stay stuck until they find help from someone else.
I know, you don't want to be pushy, fake or salesy.  Of course, you don't. That's why you're so great and why the world needs you – smart, kind, hilarious & genuine person that you are – to own your business!
Instead of feeling like you're supposed to feel natural about acting like an infomercial (*shudder*), tell a real story about a customer's success or your own, then let your audience know you're accepting new customers this month and link them to the page where you share your offer.
Your job: Write down how many times you told people about your business or shared your services this month. Now, set a goal for next month. Practice reminding yourself that you are never trying to convince anyone to buy from you. There are real people out there with real needs, but with no idea how to find you. Sharing what you do is the most effective way to help your people find you.
Find out what your top 15 posts are.

By installing Google Analytics on your website you can tell exactly which parts of your content your audience is most excited about. Just remember, it's important to share your new and old posts to social media regularly. This will give your audience a chance to show you what they want to read.
Your job: Open Google Analytics and check your top 15 posts by clicking on Behavior > Site Content > All Pages. Record them in a tracker so that you can see the big picture of your website. Can you see a recurring theme in your popular posts? Are there any specific topics or post formats that your audience really seems to love?
This knowledge is hugely valuable. It will help you create a new content plan for the coming month and give your audience exactly what they want to read at the same time. It can also give you clues to what your audience would like to purchase from you as a passive income product. Talk about being helpful!
Decide on a content theme for the next month
Now that you know what your audience loves to read, it's time to meet them where they are. The best way to ensure that you have a cohesive content plan is by creating and using monthly themes. This helps to tie all your content together along with giving your readers articles with tons of value.
You can even link back to old posts, which boosts your page views and keeps your readers engaged while you deliver extra value at the same time. For bonus points, pick monthly themes that build on each other, taking your ideas further as you move forward. This lets you meet your audience where they are and helps them grow.
Your job: Choose a content theme for next month. Write it down, using it to brainstorm goals for the blog posts, social media content you'll publish, and how you'll talk about your products or services that month. Track your goals and update your plan at the end of the month with what you actually completed.
Review and update your sales pages
Your website and any page that sells your offerings is a crucial part of your online presence, so don't fall out of touch with what is actually on it! Give yourself the chance to make small changes each month to experiment with what works best for your audience, making sure they reflect the problems you want to solve for your customers.
Make sure that the next action you want people to take is clear, bold and easy to see at a distance. Add testimonials that address any concerns customers have raised. Ensure exactly what happens when they click the button to move forward is spelled out. Try adding multiple buttons or links they can click to move forward. Find a plugin that adds columns. It makes a huge difference in how your sales page looks and how customers respond.
Your job: Review your sales pages. Update them to make sure they're current, and that you're testing to see what can make your offering more helpful and attractive to your customers. Update the pages to answer most common customer questions while using size, shape, and images to clearly share what the reader should do next.
Reach out to a past client and ask how they're doing
Don't think that when you've stopped working with a client, that it is the end of the relationship. Far from it! Past clients are amazing resources for referrals, testimonials and to make sure your work is designed to stick.
This isn't about asking for more work. It's about maintaining relationships. It is about being a good human and potentially being in the front of past client's mind when they meet someone you could be able to help. Still not sure? Imagine if someone you've worked with reached out to you and asked how you were doing. What would make you feel great about that? How can you be casual, friendly and yourself? Try that :)
Your job: Draft an email reaching out to a past client. What would make you feel great about that? How can you be casual, friendly and yourself? Send it.
It's a big, noisy world. Being invested, caring and interested in those around you is a surefire way to stand out and lift others up. Businesses can come and go, but the quality of your relationships can – and should – stand the test of time.
Weekly Routines for Business Owners
Now that you have your monthly tasks down, it's time to look at the routines that can move you toward your goals on a weekly basis. A little goes a long way here. These jobs won't take you long. But they'll keep you on top of your to-do list and out of reaction mode.
Estimate how much of your time drives revenue each week
Keeping track of your time and being aware of where you spend your time is a very simple way to stay on track. But it's not enough to feel like you're busy working – you need to make sure you're working on things that get you paid. Sound simple enough?

Time that drives revenue are the hours you spend working with customers, making sales and working on building or marketing paid products/services. If you work on an hourly rate, they're like those billable hours you spend on client projects. If you don't work one-on-one with customers, this is the time you spend marketing your products and services or working on future products. Time that doesn't drive revenue is time you spend improving your business, training, and researching, doing admin work and customer service. These are hours that support your business, but don't directly lead to sales.
Your job: Write down billable time in a different color in in your paper planner, or make another calendar with it's own colour in your digital calendar so you can easily visualize how much of your time is related to jobs that drive revenue.
It's really insightful to know how many hours you've spent on each task to make sure you have a good balance – and that you know you're not underpaying yourself! It can also help you create accurate plans for reaching your goals, as you have a better grasp at how long tasks will take you.
Do the work!
This may sound simple or silly, but worrying about your business or scrolling through social media isn't the same thing as working on your business. If you want to get something done, open up your computer, put your butt in your seat, and only work on that one thing – nothing else – until you need a break. Repeat.
Your job: Make sure you show up, sit down and do the work. You have everything you need right now to start, so take the next step and jump in! When you get in your head about your work, try journaling about what you're feeling and what's on your plate for 15 minutes. Identify five things about you that make you ready to take this on! Now that you've processed your feelings and pumped yourself up trust your ability to figure things out and get started.
Give yourself 1.5x the time you think you need to complete tasks
If you're like me, you've probably overestimated the amount of things you can get done in a day. Sometimes, we just put too much on our to-do list. We get bogged down when we can't cross everything off at the end of the day.
When I started planning things out, blocking 1.5x the amount of time I thought I'd need for something, I ended up with a much more balanced list and actually finished all my tasks for the day. This made me feel accomplished and ready for the next day, instead of frustrated and defeated.
Your job: Review your calendar once a week. Schedule 1.5x the amount of time you think everything will take to complete. If there's not enough time on paper, it probably won't work in practice. Adjust your schedule and enjoy feeling on top of your life for the week by ending your 'never ending' to-do list for good.
Share the work of someone you admire and don't forget to tag them in the post.

Connection is not only fun, but it also makes you look like a human instead of a sales robot. Each week try to share the work of someone you love. You can share a quote from a recent post, opt-in freebies, or a helpful blog post. Sharing the work of people you admire gives your audience a peek into something they might love too.
You can feel even better about this because you're creating a mini-win for the person whose work you're sharing. So, the next time you see someone doing something amazing, or writing something insightful – hit the Share button and tag them in the post!
Your job: Start bookmarking or pinning blog posts by other business owners / content creators who solve problems your customers might have. Once a week, open up the list and choose one piece of content to share. (Don't forget to tag the creator as well so they you know you love their work.)
Reflect on your week.

If we're not careful, we can let ourselves get so busy we don't take the time to ask ourselves big questions or reflect on what's really working.
When you work for yourself, or have a growing side hustle, skipping reflection is a dangerous game. Without that time it's hard to tell what's working and what's not. What is your intuition is telling you? Is that actual intuition or are you just craving pizza?
Your job: At the end of the week set aside 5 to 10 mins to reflect on your week. Ask yourself the following questions, journaling a quick response:
Where did I thrive this week?
When did I get in the way of what I really want?
What action will I commit to next week that will take me closer to my goals
A weekly or even daily time to reflect will help you grasp the things in your business that go well along with the parts needing your attention. You will feel more on top of your game and know exactly what's happening in your business. As a bonus, you will be prepared for the next week. You will know exactly what your main goals will be the upcoming week. (Hello, productivity!)
Of course, there's much more you can do to up your business game and make sure your business runs smoothly. These tips will just get you started. If you're really ready to up your game, grab the full list of all the weekly and monthly routines for business owners & bloggers you need to stay on top of your game.
Do you have a weekly or monthly routine for your business?
Share one thing you could start doing in the comments below
DOWNLOAD THE FREE
ACT LIKE A BOSS WORKBOOK
Swipe the full set of monthly and weekly routines that profitable online business owners use to get ahead and stay on top of their goals!