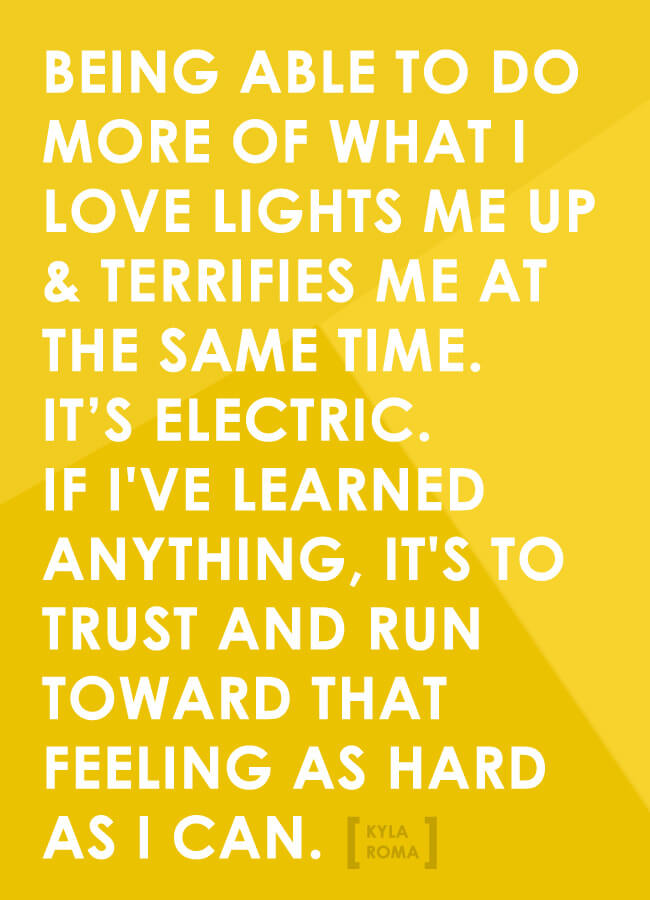 For the past five years I've been the co-owner and Managing Director of Freckled Nest Design. While we've talked about different possible futures before, the decision to end our partnership and close the company we built together started with a simple comment by Leigh-Ann at the end of a conversation this fall.
"I guess at some point we should have the conversation about if we're building one company, or if we're building two separate businesses."
My response was immediate.
"NO, I THINK WE'RE GOOD – LET'S TALK LATER! KBYE!!"
As soon as the words were out of my mouth I was instantly annoyed, since I've learned that when I have a knee jerk reaction to anything it's because there's something bigger there to look at. While we'd talked about our professional futures – together and separate – many times before, it was still a big adjustment to think about working in a different way.
After a lot of thinking, talking, laugher (and some tears), today Leigh-Ann and I are happy to be past the hard part of adjusting. We want to share that we've decided to end our partnership on a high note, with a lot of friendship, respect and fabulous memories.
Five years of Freckled Nest Design
The "Freckled Nest" part of our business name came from the name of Leigh-Ann's blog (that you can still read), where she taught online and started her freelance design work. She invited me to join her as a designer in early 2009, along with Moorea Seal (who has gone on to take over the internet!). By the end of 2010 I'd quit my full time job, then the part time job that topped up my income, and we'd rented a beautiful studio downtown. In the first months of 2011, Leigh-Ann decided that she needed more of my technical and business know-how, and invited me to become Managing Director & an owner.
After reading her blog and looking up to her as a mentor, working alongside her was a dream. I had always wanted to work for myself, but getting there seemed murky and impossible. Having my friend there with me as I took it on made it seem less scary and more like an interesting puzzle for us to solve, together.
In the past years, we've both learned and gained so much experience together, and I'm thankful for that every day. As Creative Director and a designer to her clients, Leigh-Ann's talent has blown me away since I met her. Her enthusiasm, passion, and energy are otherworldly. Hands down. Just in this last year, I've had the privilege of seeing her skills grow at an exponential rate as she upgrades her graphic design training and I can't wait to see what she dreams up next.
Making the tough decision
As much as I've loved being a partner in Freckled Nest Design, for the past several years my role was to run the day-to-day business of the company, in addition to the design work that pays my bills, and it's been demanding. My client work and online courses have always been completely separate from Leigh-Ann's, to the point that we're essentially two freelancers working under one name – and that's worked well for both of us for a long time, even if it's confused our accountants.
(Leigh-Ann's accountant last year at tax time asked us again, "Wait, HOW is this a partnership?". Because we said so, that's how!)
The responsibility and challenges have been fun and interesting but even when everything was working seamlessly, the amount of time and effort that I needed to sustain it was high. Especially because at the end of the day, there were two decision makers. As Leigh-Ann has discovered that one-on-one design work is her speciality, I've realized how much I love helping bloggers grow their blogs into businesses and create systems that work for them, how much I want to teach online and that I want to write more.
So this fall, when Leigh-Ann asked if we were building one company or two, I realized that both were choices and I needed to choose.
Either I could keep putting my time and energy into running Freckled Nest Design for Leigh-Ann and I and have little leftover for my clients, or I could do the scary thing and end the partnership so I can build something that lets me focus on what I love even more.

Helping people lights me up. I love hearing your ideas, helping you spin them out in new ways, and discover how they can help you pay your rent or mortgage. It's an honour to me, and a responsibility that I take seriously – and I realized that now is the time to double down on my commitment, and on my follow through.
So how do you leave a job you love and end a business partnership with your best friend?
Should I just state the obvious first? Carefully!
Kidding aside, we've tried to do this with a huge amount of love and care. I've treated Leigh-Ann how I wanted to be treated, and because Leigh-Ann is phenomenal, she's done the same.
When all was said and done, we made all the decisions about how we would end the partnership in two afternoons. And then we went for Mexican food, caught up, and laughed too loud.
Just like always, only better, because we knew that soon we'd get to enjoy our friendship without any of the pressure of deadlines and decisions.
If you'd like more details, to help explain the full story of the split we've recorded a podcast style interview that you can stream or download here.
What's next for me
Spoiler alert: you've already found it! What's next for me is making what I do for a living available at KylaRoma.com, and recommitting to being here for you.
The company that I'll use for my work is called Kyla Roma Creative, but everything is right here – and I've updated the design of the blog and website, so come look around!
This is what I'm working on now:
I design blogs, websites and shops for bloggers, creatives and business owners, and I have a new way of doing that that's even more affordable than before.

Above everything else, thank you for your support. It means so much to me, and I'm incredibly excited to start this next chapter. If you have any questions, just like always, I'll be checking in all day to answer them in the comments!
LAST UPDATED ON: December 2nd, 2014
CATEGORY: All Posts