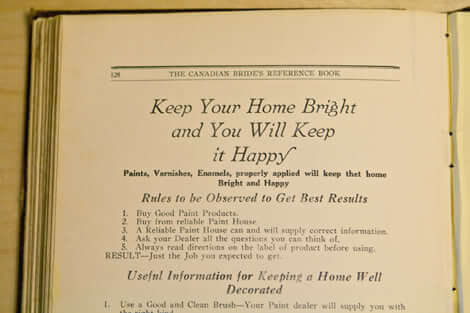 My mom is one of my favourite people, especially because she enables my accumulating vintage books and housewares. This spring she lent me one of my favourite items yet, The Canadian Bride's Reference Book that was given to my grandmother when she got married.
I love the etiquette notes and vintage ads the best.
Relationship Advice from the 1930s:
"Above all, do not run off and tell anyone about a difference of opinion between you and your husband – do not take it seriously. Don't forget to smile. Kindness, patience, good temper, and good sense will always win and they build that trust and love that endures when everything else passes away. Avoid the first quarrel. Don't have it. Do not quarrel. Stay away from it, he means well and so do you."
It's packed full of recipes for drinks, doughnuts and five course meals. There's a guide on how to tell what kind of man your husband is, instructions on how to manage your household budget, and charts on how much sunshine your baby should get in a day.
I love flipping through it, but all I can say is thank goodness for the internet age. I don't think I'd last an afternoon in this world ;)
LAST UPDATED ON: July 22nd, 2010
CATEGORY: All Business & Blogging Posts