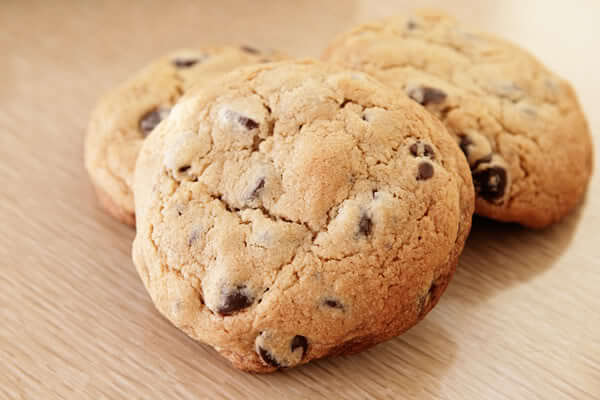 I'm a huge fan of all things sweet and savoury, and the first time I tried chocolate paired with a little sea salt I went weak at the knees. It's a near lethally tasty combination that shouldn't be underestimated! Lately I've been missing baking with a vengance, and since I left my retail job I've had my evenings and weekends back to pepper with fun (!) leisure (!!) activities.
I know, it's a little outlandish.
I wanted my first step back into my kitchen to be a simple and classic recipe that would be easy to share, but stepped up to be a little gourmet. Salted chocolate chip cookies sound just about perfect to me.
I had so much fun making these, and they're the best looking batch of cookies I've made yet! They're light and fluffy, giant and full of chocolate chips. The recipe really guides you through how to get not just a great taste, but a great looking result too.
While my cookies normally taste good, they're not anything special to look at. But last night Jesse went downstairs to see them when they were cooling and when he turned into the kitchen I heard a big "WOAH" float up through the house. That qualifies this as a keeper in my books!
Salted Chocolate Chip Cookies
adapted from savoury sweet life
Grab…
1 cup salted butter, softened
1/2 cup sugar
1 1/2 cup brown sugar
2 eggs
2 tsp. vanilla extract
3 cups (12 oz) all-purpose flour (weigh it if you can, I found 12 OZ was slightly less than 3 C)
1 tsp. smallish-medium coarse sea salt (table salt is quite bitter and will change the flavour, so make sure you use sea salt)
1 tsp. baking soda
1 1/2 tsp. baking powder
2 cups/16 oz of semi-sweet chocolate chips (I'm a fan of Ghiradelli + used about 1 1/2 bags)
Parchment paper for the pan (wax paper will burn, no substitutes!)
Okay!
1. Preheat oven to 350 degrees.
2. Cream butter, sugar, and brown sugar until it is very creamy – approximately 3 to 5 minutes on medium speed.
3. Add the eggs and vanilla and beat for an additional 2 minutes.
4. Add baking soda, baking powder, salt, and flour until cookie batter is fully incorporated.
5. Finally add chocolate chips until well distributed.  The cookie batter should be somewhat thick.
6. Drop about 1 1/2 – 2 tablespoons of dough or use a medium cookie scoop and plop the batter onto a baking sheet lined with parchment paper. Bake for 12-14 minutes until the edges are nice and golden brown.
7. Remove from heat and allow the cookies to stay on the cookie sheet for an additional 2 minutes.  Pick up the parchment paper with the cookies still on top and transfer to a cool non-porous surface.  Allow the cookies to cool on the paper for at least 3 minutes before serving.
8. Devour & bask in the glow of your grateful kitchen ;)
LAST UPDATED ON: January 6th, 2011
CATEGORY: All Posts