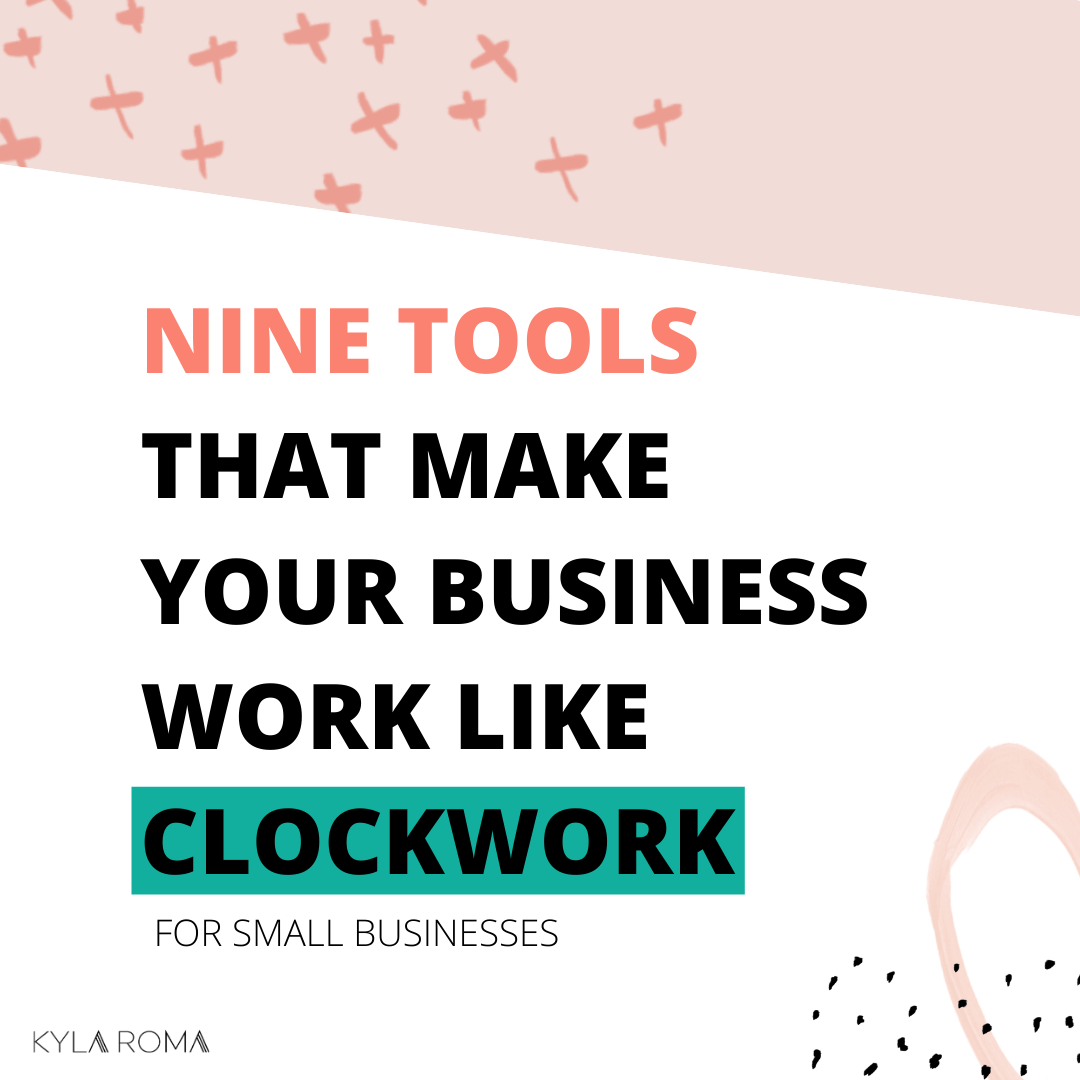 I have a confession: I'm a tools and services junkie. I love trying out new things, seeing what works and what I can add to make my work run smoothly with less effort. 
When I see the words "tools for small business" generally, I pounce. For me, the challenge isn't finding a service or tool that does the job right. It's picking just one tool and sticking with it! It's taken me years to find a suite of products & services that work together beautifully for my blog & business. 
Since I always have a suggestion for what could help other people, I'm always being asked about my favorite tools and resources. So I've gathered up my favorite resources all on one page where I can share my favorite parts of my blog & business toolkit with you! 
Some of the following links are affiliate links, so if you fell in love and signed up a service I would make a small commission at no cost to you. All services here are included because of my positive personal experience with them.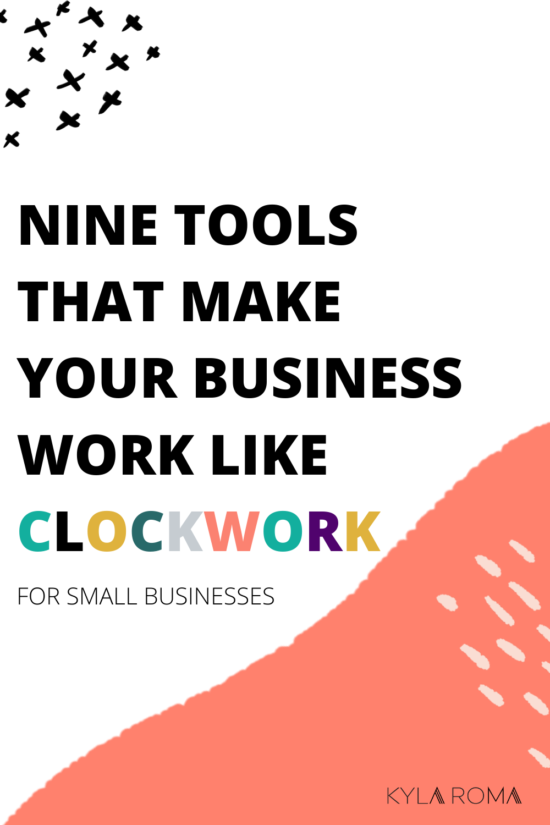 It includes some favorites that you're probably familiar with, but I'm willing to bet that some of them will be new to you too. It includes:
The service that has made my business and coaching easier to deliver and expand to work with more clients
The best way I have found to communicate with my readers, clients, and contacts
The bookkeeping program I use that I'm convinced is one of the Internet's best-kept secrets. Not only will it probably be new to you and cost less than what you're using now, but it lets you track profitability! It's so helpful that it's made me look forward to updating my books every week.
Email Marketing: ConvertKit
I've used at least six different email marketing companies for myself and clients, and ConvertKit is better than all of them. It makes sense, doesn't require extra purchases to let you segment your audience (I'm looking at you, MailChimp…), lets you provide lead magnets and content upgrades without needing to get fancy and technical… it's everything bloggers and business owners need.
It even lets you make simple landing pages and their full visual automation is nuts. Just so good! ConvertKit is the way to build trust and authority with your audience, no matter what your niche is.
CLICK HERE TO CHECKOUT CONVERTKIT
Meet with your people: Zoom Conference
All of my client meetings and conference calls are done with Zoom Conference. It is a smooth and easy way to schedule video calls with clients and groups. With audio and video downloads available, it is the best way I have found to meet with my people.
Appointment Scheduler: Acuity 
I literally don't know how I would keep track of my appointments without Acuity.  I have tried numerous methods to make it easy for my clients to book and nothing beats Acuity. It's more customizable than anything I've seen and even allows you to text message your customers before appointments for no extra cost.
It sends custom emails before and after appointments, lets you accept payment and makes sure you don't get overbooked or need to worry about time zone conversions.
CLICK HERE TO TRY OUT ACUITY SCHEDULING
Evergreen Webinar Hosting: Demio
Demio is a webinar platform built for marketing. It is a simple, reliable way to create scheduled and automated webinars to increase customer interaction, evergreen your content, and grow your business. Every webinar I have hosted on Demio has ended in sales. Great results and great support.
TRY OUT DEMIO AND GET $25 ON A NEW PLAN
Bookkeeping: FreeAgent
Bookkeeping and accounting for small businesses can be SO hard!  I've used QuickBooks, Wave, Xero, Harvest and more – and FreeAgent easily blows them away. Easily track billable and non-billable expenses on client projects, project profitability, cash flow and more.
My favourite part of it is that it has a dashboard that shows your income and expenses for the year when you log in. It's a great way to stop avoiding your numbers! (Speaking as a former number dodger myself.) It gives you all the customization you need, and none of the confusion!  And yes, it has time tracking and a great mobile interface. This is a must try.
CLICK TO EXPLORE FREEAGENT AND SAVE 10%
WordPress Themes: Elegant Themes
Building a blog or website can feel complicated, but it doesn't have to be that way!  Elegant Themes is a premium WordPress theme service that lets you build fully responsive website designs and page designs. It's a total lifesaver and creates gorgeous, professional designs.
Get 100% complete access to their entire collection of 87 themes for the price of one! KylaRoma.com is built using their Divi theme, and it lets you run A/B tests on your own web pages with a couple of clicks. Pretty neat, right?
CLICK HERE TO EXPLORE ELEGANT THEMES
Feedback forms & surveys: Typeform
 Typeform makes it easy to create forms, quizzes, questionnaires, and surveys. Beautiful whether you're on a laptop or mobile device, Typeform makes asking easy and answering refreshing.
I have found Typeform the best way to collect information from my clients to help them succeed and also for them to provide feedback on how I am doing and their results. 
CLICK TO DISCOVER ALL TYPEFORM HAS TO OFFER
Social Media: SmarterQueue
Get all your social media posts scheduled in about 1 hour per month. Everything you need, in one place: content calendar, scheduling, content curation, image search, visual reports, and performance analytics. 
Increase your social media engagement while saving time with the help of SmarterQueue's easy scheduling, quick add features. I've used other scheduling tools, but SmartQueue does it all for the best price.
CLICK HERE TO TRY SMARTERQUEUE FREE FOR 30 DAYS
Online Teaching: Thinkific
Thinkific helps you create beautiful courses online, quickly and easily. With a focus on content and not coding, it is a simple, yet effective way for anyone to create and sell an online course. There support is great. Fantastic integrations. And all content is owned by the creator! 
CLICK HERE TO START TEACHING ONLINE
Once you've taken a look, come tell me if I missed your favorite one, or if we're project management twins. Share in the comments below! We'll make this a resource round-up of the best tools for small business owners and bloggers.
What are your favorite tools or services that you use in your business?
(I'll add my favorite free tool in the comments too! It's another that I use every day.)
LAST UPDATED ON: June 3rd, 2020
CATEGORY: All Business & Blogging Posts Content Marketing Strategy Productivity for Entrepreneurs