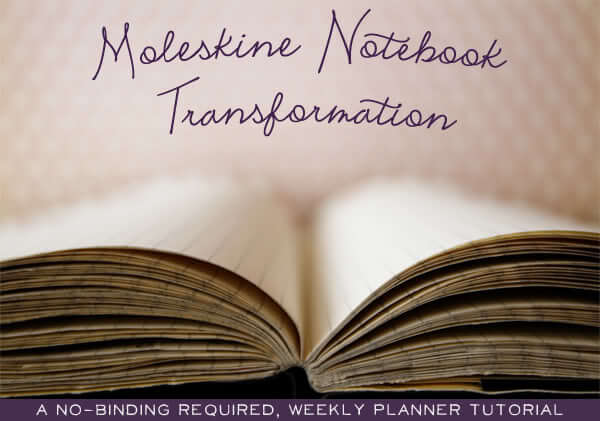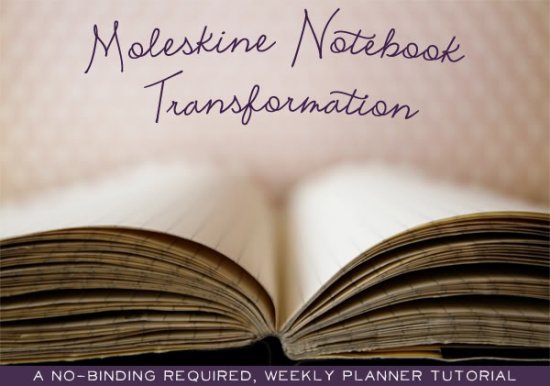 I love getting organized and when it comes to planners, daytimers, agendas – whatever you call them, I'm a sucker for a great system that will keep me motivated through the week. Inventing my system is the most fun for me. While I've posted a DIY planner tutorial that I used to make my 2011 planner, the problem with making a planner for yourself that will last you a year is that you have to bind it yourself and make it durable enough to last a long time. That's a big stumbling block for many people, so when I made my 2012 planner I wanted to come up with an approach that more of you could try for yourselves :)
This tutorial will show you how to take a Moleskine Notebook and turn it into a weekly & monthly view planner that you can start at any time of the year, and need almost no supplies to make! This DIY Moleskine planner is completely customizable and uses every last page of the notebook, but each week is infinitely flexible, so you can naturally change how you use it over time, and let your planner evolve as your year unfolds.
Supplies
A Classic Extra Large Moleskine Notebook (I used the squared, softcover version)
A Pen
A Ruler
Optional: determination & a distraction, tracing the template takes a while!
What's Inside
Weekly Pages for the Day To Day

The weekly view pages are what makes up most of my DIY Moleskine planner. They have a large space for every day To Do lists, appointments, and projects that need to get done. Then above and below the weekly notes, there's lots of space for checklists, notes and anything that you'd like to add in! This extra space means that I can adapt how I use my planner as the year goes by so I'll never grow out of it or be locked into one system. I love how flexible it is!
A Monthly Calendar View Page & Blank Pages for Dreaming and Planning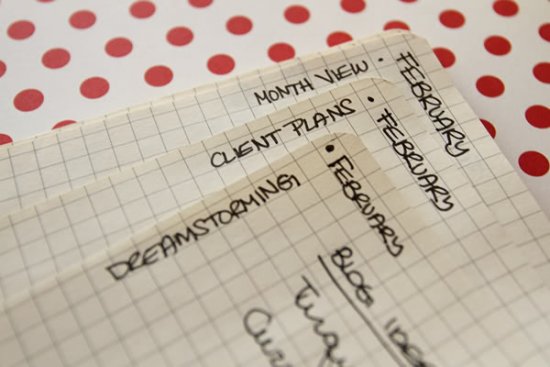 At the end of every month, I added three double-wide pages. One is a monthly view page with a calendar layout for planning my projects, client plans, appointments and being able to see things in a slightly different layout. Then I have two more: one for brainstorming & dreaming (I call it dreamstorming for myself), and one for planning how I'm going to approach work with my design clients in the coming weeks.
How I Use My DIY Moleskine Planner

I use my weekly pages differently every week! Right now I'm using check marks for the things I need to get done every day, and I've added an extra line under the main section for what I'll be blogging about every day. I write my husband's travel in on washi tape for a pretty reminder of when I'll be a solo-puppy mama.
Above the weekdays I've made notes on fun projects I can work on in the evenings, and below the weeks sometimes I have the steps that I'm working on with my current clients (like above)…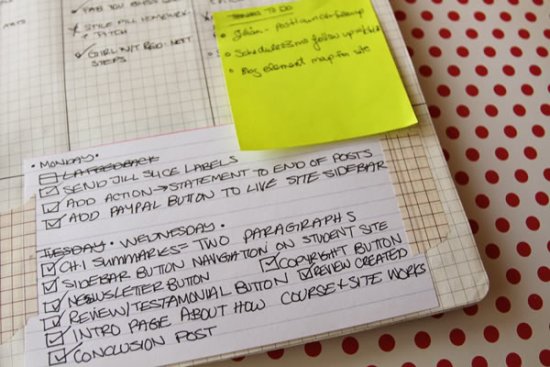 Sometimes I add in cue cards for special projects- like when I work on Planner Camp, online course that teaches you how to make your own day planner. Sometimes I'll add sticky notes that I can move forward from week to week.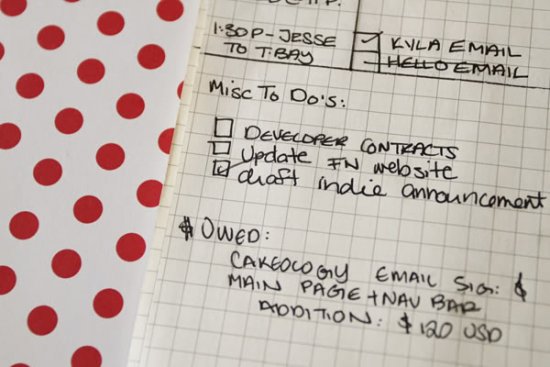 Then sometimes I'll make time lines or check boxes to keep track of clients I need to invoice or pieces of work I need to get done. This whole bottom section can be whatever I like it to be, and change as much as I need it to from week to week.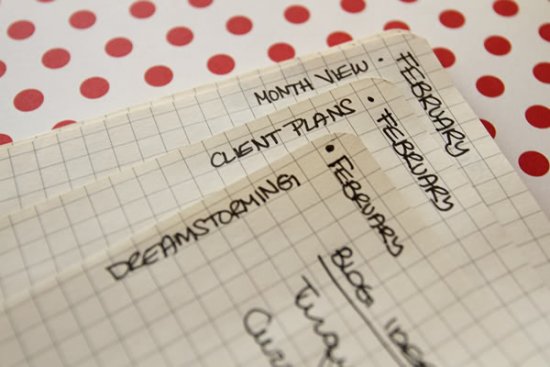 And of course, with the Month View, I can still plan with a big picture view of how each month will go, and I can stay on track of my goals and dreams throughout the year.
Steps To Make Your Own
1. Take your ruler & pen, and open your Classic Extra Large Moleskine Notebook to the second page, so you can see two pages opened up at the same time like in the photo under the "Weekly View" heading at the start of the post.
2. Consider where you would like your weekdays positioned vertically on the page- you can put them right at the top, so there's no space to write above them or place them in the middle of the page, whatever feels the most natural to you. When you've decided, draw a horizontal line all the way across both pages.
3. Consider how much vertical space you would like the weekdays to take up, and how much space you will need for each day. I strongly recommend leaving 2-3″ of space at the bottom of the page, so you can make a flexible system that will adapt as your year progresses. When you feel decided, add a second line that will form the bottom of the weekly area, across both open pages.
4. Create the divisions between the days of the week! My measurements make weekends more narrow than the weekdays:

Saturday & Sunday are 1 and 7/16ths of an inch wide

The weekdays are 2 and 3/8ths of an inch wide
5. Add the labels for the month and days of the week, and then move forward to repeat steps 1 – 5 again until the end of the month.
6. At the end of each month, leave some pages blank for tracking your goals and plans. I recommend leaving six individual sheets, or three pairs of pages that open up facing you together and then starting the weekly view pages again. These blank pages can be used for anything you like (or you can skip them and leave extra space for writing at the end of the year) but adding them in will allow for a perfect 13-month weekly calendar that has room for monthly brainstorming and tracking.
Thanks for following along!
I'd love to see how you take this idea and make it your own,
so if you use this as a planner make sure to link back to this post :)
LAST UPDATED ON: January 31st, 2012
CATEGORY: DIY Day Planner Design