Launching anything new can be an intense and exhilarating process. In the middle of excitement and checklists sometimes the most important things – like what we learn during and at the end of each launch – gets lost in the shuffle.
Today you're going to learn how a few clicks in Google Analytics will let you see exactly how to tell where your traffic that converts into customers really comes from. 
Knowing where your traffic comes from is a game changer because it lets you make strategic choices.
…Like maybe doubling down on what worked the next time you launch so that you can get better results with less work!
If you don't take the time to understand where your customers actually come from, you can't improve your sales or launch results.
All other changes you make are going to rely on luck, and that's no way to run a business! Today, we're going to solve that.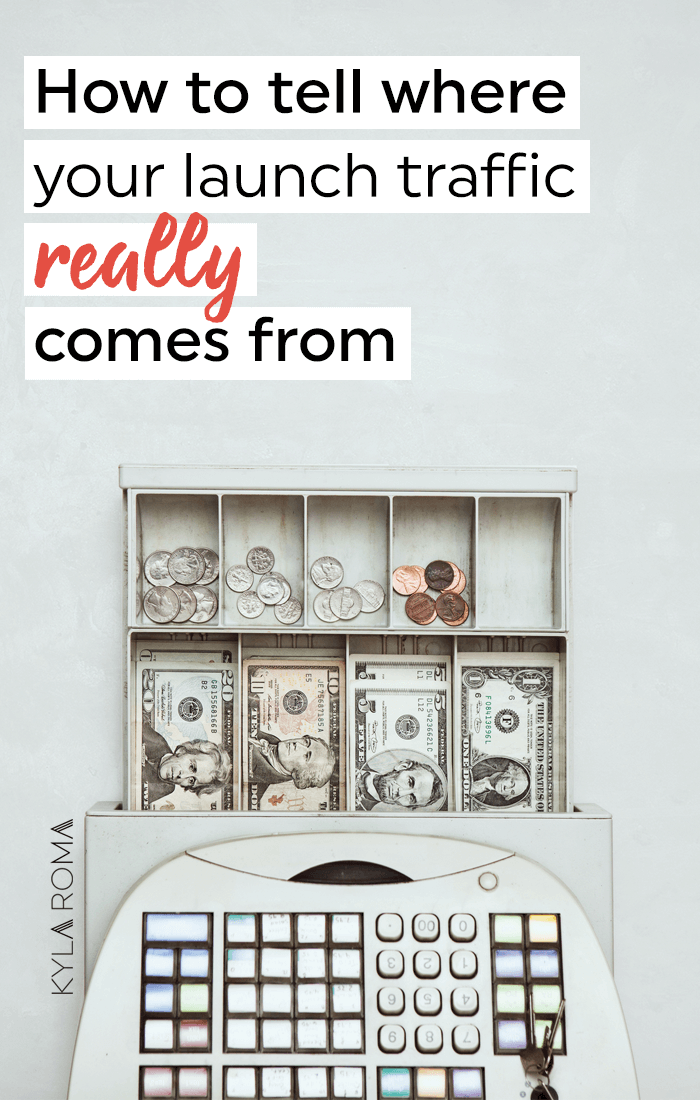 One tool you can use to measure the effectiveness of your launch is Google Analytics. Having this free tool set up is essential and profitable.
If you use Google Analytics to set up Goals, it will automatically track when someone buys your services or products.
Google Analytics goals let you see what kind of traffic to your site turns into customers.
You can see where your customers where they came from, how long they spent on your site, if they'd visited before and more.
That means that if you have tons of traffic from Pinterest, but it's the traffic from Instagram that actually turns into customers, you'll know that and can focus on Instagram.
You can start making marketing decisions that are much more profitable.
What are Goals? Goals are what I call "golden clicks" on your website: newsletter sign-ups, service/product purchases, downloaded opt-in pdf, etc.
Whatever that business building action you want the people visiting your site to take, you can track it. The key to tracking Goals in Google Analytics is that you need to have a URL confirmation page. This signals that the user completed an action successfully, like signing up for a webinar or purchasing a product.
Here's how to set up Goals in Google Analytics:
1. Choose the good result you want to know more about
Do you want to know how many people sign up for your newsletter? How many people buy your product or service? How many people sign up for a specific lead magnet?  Choose something that will help reach your business goals. Being profitable is more important – and sustainable – than being popular.
2. Find out if you can send people to a custom confirmation page
After someone successfully completes the desired action (subscribing, purchasing, scheduling a discovery call) to track them, you need to send them to a custom confirmation page, or a thank you page. This tells Google Analytics that something good just happened, and it tracks it for you!
NOTE: If your service doesn't let you choose the page you send people to, it may be because it has a direct integration with Google Analytics. Search their help documentation for "Google Analytics", "goal tracking", or "conversion tracking" to find a tutorial, and follow it instead of this post.
If you neither of these works for you, this probably isn't the right way for you to track your results.
3. Create a simple thank you page.
Next, you want to make a simple thank you page that users will be sent to once they complete a goal.
This could be as a blank page that just reads "Thank you!" or one with your picture that says "Thank you for Subscribing!" or "Purchase confirmed!".
(It's true, those thank you pages aren't just about being polite!)
4. Tell Google Analytics to track it
This lets Google Analytics flag the traffic that gets to your thank you page, so you can see their information about them separately from your overall traffic.
The great thing about this is that it doesn't collect any extra information about them, or invade their privacy, it just lets you see their information all in one place. (Like how they got to your site!)
Here's the video tutorial on exactly how to set it up:

And here's the click-by-click instructions I follow in the video:
Log into Google Analytics and click "Admin."
Make sure your website is selected under the "Account" and "Property" columns.
Under the View column (far right) click "Goals."
Click the red "New Goal" button and set up a Destination goal.
Choose "Equals to" in the drop-down menu
Add the thank you page URL into the destination field.
Note: If your page was located at https://www.website.com/thepage you only need to copy from the slash forward, like this: /thepage

5. Watch how your goal performs!
After you set up Goals in the Admin area, you will be able to see it added into the last column of several Google Analytics reports.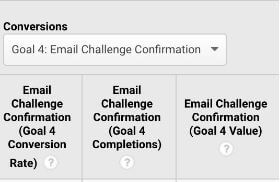 Once you have the goals set up, and some results have been collected you can see what's working best for you by clicking Acquisition > All Traffic > Channels, which will look like this: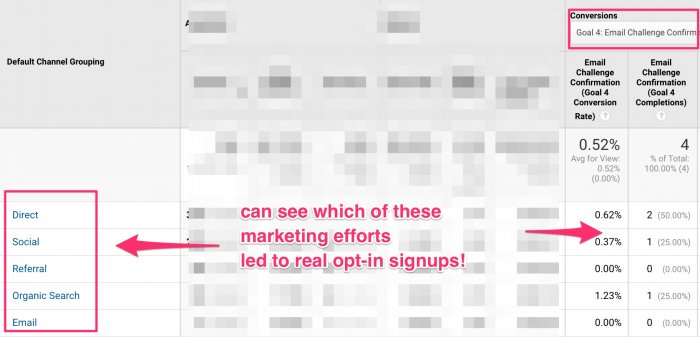 Now you can start to see what's really bringing in your customers!
You'll see the following headings and can click on them for more detailled results:
Direct means users who are typing in your URL directly in the browser or have it bookmarked. This can be popular for returning users, who already know and like you.
Social are all the social platforms.
Organic Search is Search Engine traffic like Google.
Finally, Referral is the other sites that are sending you traffic. Each of these values can be clicked into further to understand a more detailed view of the traffic.
(And don't forget that you can adjust the dates to show you who became customers during your launch.)
Find out what's converting into customers
The screen you're looking at shows the results for all traffic to your website during your launch. This is a great way to see how much resulted from the work you've been doing!
You can also see your goals, or conversions, that are listed at the far right side of the report. This is where you can find where your customers came from.
To see your customers, scroll all the way to the right, and look for where your customers are coming from. Then you can click on that row, and see more details.
For example, if you had conversions listed under the row that said "Social" you could click it and see something like this: 

This will let you see exactly which social network that person came from, and you can see if another social platform is pulling in more traffic than you think.
Now you can see how much of your hard work lead to launch traffic, and where your actual sales come from.
This is powerful! Increase your efforts in these areas, and watch what happens. Remember, your data matters more than what any expert says works because your data tells you about your customers.
A couple of additional tips:
Make sure to have everything set up and ready BEFORE you launch. This will ensure you capture every single sale, aka conversion.

In terms of

when

you should be analyzing your data, this can be done during the launch (if you want to shift as your launch is in progress) or once your launch is done (to document how many of your sales come from which channels). I recommend both!
Don't forget to document what you learn about your launch traffic for your next launch.
This can help you continue to improve in your launches and is just one way you can use Google Analytics in your business. It's a free and important tool if you are looking to grow your business quickly and reliably.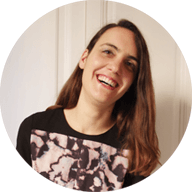 This guest post was originally written Cynthia from Digimorphs. She helps business owners eliminate guesswork from SEO.
[It has since been updated by Kyla Roma with a video tutorial and edited for clarity.]