When you first start your business, the initial launch is both thrilling and terrifying! If you're anything like me, as soon as getting your big idea out into the world started to feel real, two voices popped into your head:
Voice of your inner Disney Princess:

"If I do this business thing right, this could be my big break! It could change my life if I work hard enough at it… Anything is possible, right?"

Voice of your inner Denis Duffy (Liz Lemon's terrible boyfriend on 30 Rock):

"Come on, dummy. The world, and especially the internet, is full of strangers and weirdos who will sue you or post terrible things on Yelp about you. Do you really want to get yourself into this trouble when you could be playing Halo!?"
But you've read Brené Brown! You're not going to let the discouraging voice stop you!
So you persist. You research for months, launch your business, start writing a blog for it but after the first few weeks it feels like it's lost momentum. (It happens to everyone, it's just not something that many openly share.)
So you read up on marketing, list building and getting traffic… but it all seems a little hollow. You didn't start this to watch the numbers of your Instagram following rise and fall.
Congratulations, bloggers and bosses! You're officially at the point where you want to build community. But, how do you go about that when your business is still small and growing? Don't you have to be super popular for that? And what does community mean, exactly?
Here's a secret: Being small is a super power, so start building your community today! Click to tweet it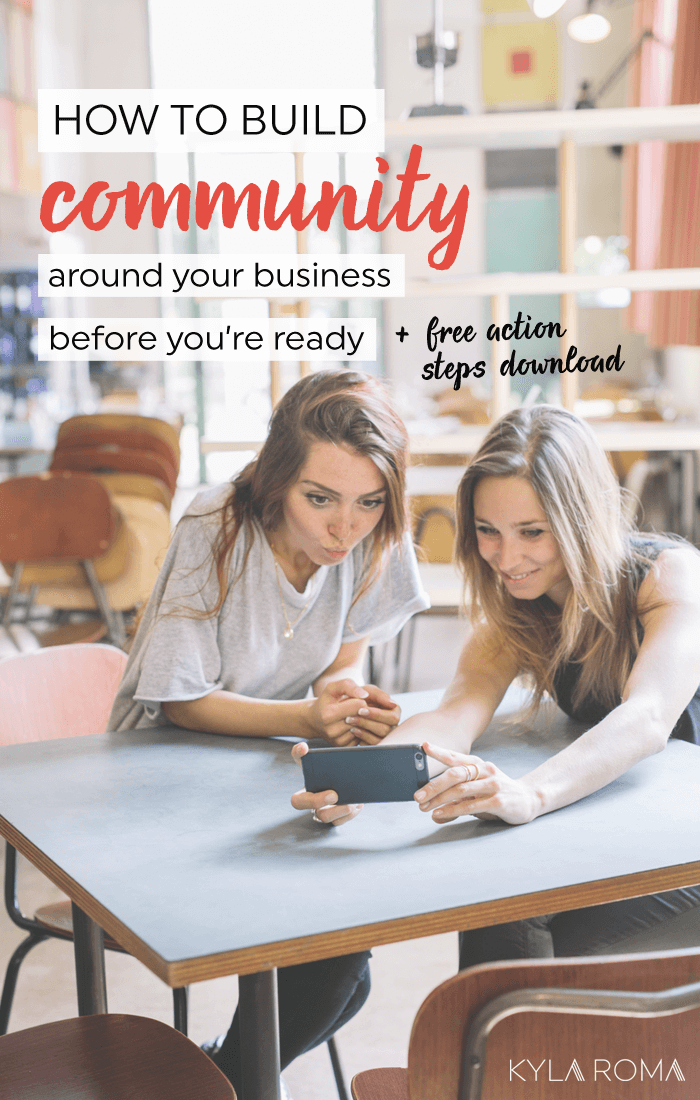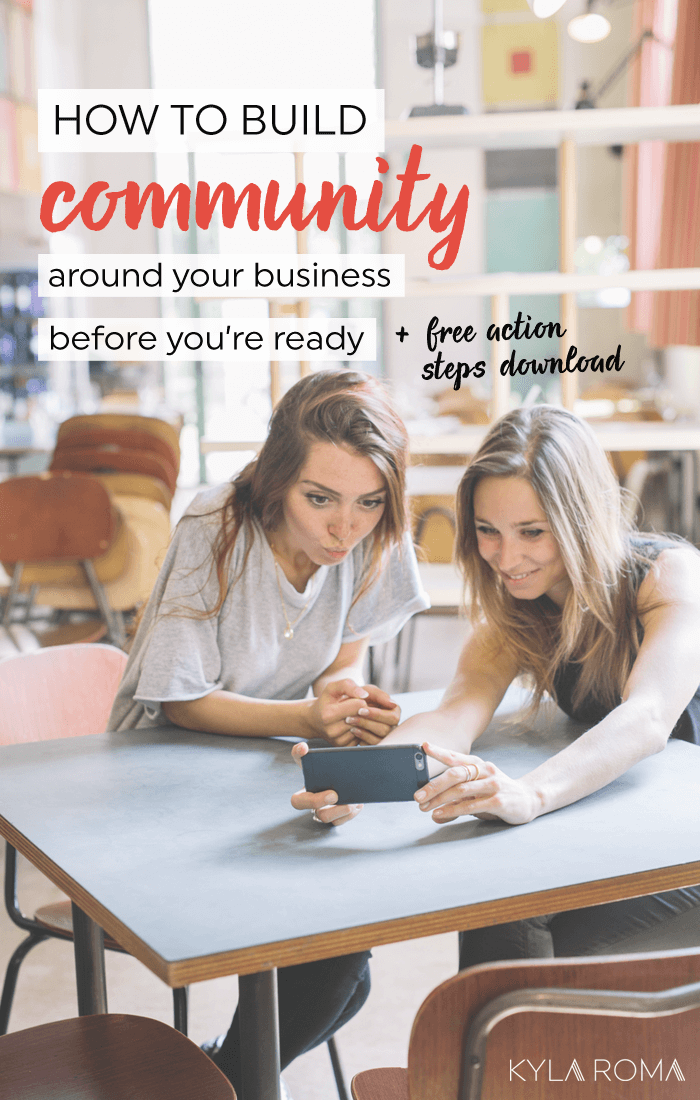 Ready to start before you're ready? Let's do this!
How to build community around your business before you're ready:
1. Decide what you stand for, and invite others to join in.
You know what you stand for, but do your customers? While you might know what kind of business you're running and what guides your choices, your audience won't pick up those subtleties until you've written them down somewhere – like in a blog post, or on your about page.
Ask yourself what do you love about your industry? What do you wish there was more of in the world? What's the perspective missing from your niche that you wish got more attention? What will your business strive to do, and what will it never do? Be as precise as possible. Generalizations don't move anyone.
Write up a few statements that share the kind of business you're running, and add them to the about page on your website. Print them out and put them somewhere you & your team can see them. Look for opportunities to live them out. Dream up ways to include them in your social media and to encourage your audience to live them out alongside you through a hashtag or a challenge.
These details humanize your business and make you stand out from the crowd. That makes it easier for the people who could become your biggest supporters to find you.
Click here to download your free community building guide
2. Decide on how you want to make people feel.
What type of a relationship do you have with your customers? Transactional? Recurring? Personal and long term?
Do you want your customers to feel like VIP insiders, or like they're part of a bigger team? Do they need a cheerleader, a coach or a teammate from your business?
Each business will have different kinds of relationships with different types of customers, based on their spread of products and services.
For example, someone who buys your $2.99 eBook has a different level of trust and investment in your business than someone who's excited to buy a $2500 product or service. Not better or worse, just different.
When you know the kind and quality of the relationship you want to create, you can tailor the customer experience to create that. Examine the tone of your social media, the way you speak to your clients and the follow up you do.
When your communication is based on an intentional decision on how you want your relationship to feel, your customers will interpret that consistency as integrity. Nothing builds trust like integrity.
3. Share big ideas first, products and services second.
When you first start promoting your work or your business, it's tempting to direct people to your products and services. You should, but if you're not connecting back to big ideas that are larger than your current sale, your engagement will suffer.
That's because your community isn't just a group of people ready to buy from you. It has separate goals from your business, and nurturing it means you should be there in service of your customers.
Let's look at how big brands tie themselves to big ideas, even in their marketing and advertising. For example, Coca-Cola is a soft drink, but instead of focusing on just the physical product and directly asking customers to buy it, their branding ties into the much larger idea of sharing and relationships.
This works because when you don't lead with the larger story, a product or service is a commodity, and it feels impersonal. Worse yet? It feels like an ad or spam. It feels as unwelcome as someone who shows up at your dinner party and launches into a sales pitch. So awkward, right?
Building community is all about building trust and establishing buy-in from your audience, so lead with your big ideas first. Be a real person. Talk about things that matter in your industry and ways to help your customers. Use social media to share quotes that reinforce your brand values. Ask your customers to share photos of how they use your products & services to make their lives better, and share their stories. Promote ideas, organizations, not-for-profits and other businesses that make the world a better place.
Sometimes it seems like everything is on the other side of more customers, more website traffic or more of an advertising budget. But a small group of dedicated supporters is completely within your reach if you start building it today.
It's worth building community around your business before you're ready. (It's how you become ready.)
Your business might be small, but building community before you're ready also means that the big brands can't compete with the personal engagement that you can give to your biggest supporters. You can be interactive, try new things, and design a customer experience that's tailored to delight your customers today. All of those things are investments that will grow your business long into the future.
Remember – starting small, and before you're ready is exactly how you grow and become ready. You've got everything it takes, right now.
Click here to download your free community building guide