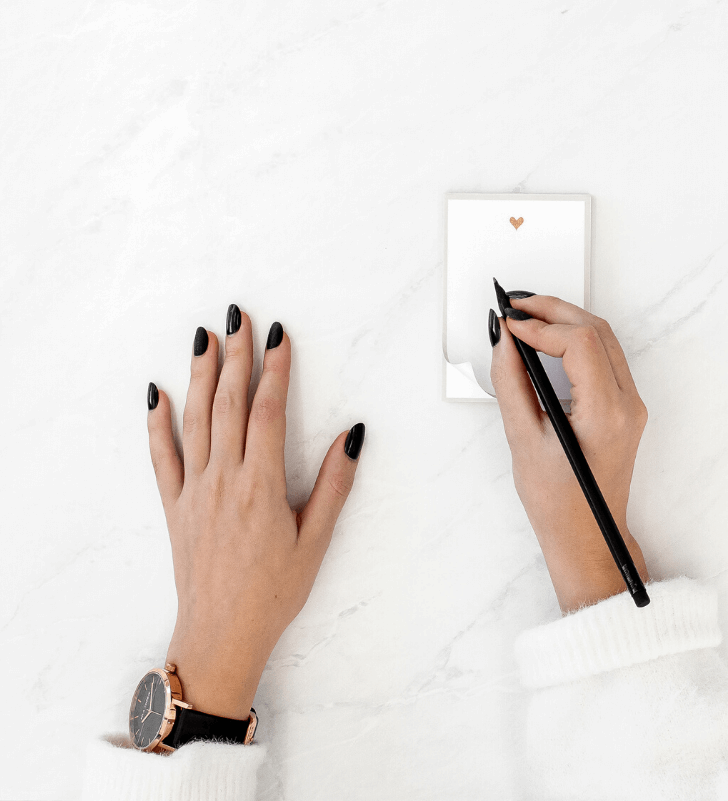 Are you a big planner?
I am.
I used to be way, way deep down the planning rabbit hole.
I'm talking making my own handmade day planners for years, and eventually building a course that taught day planner design. I was a little intense about it!
These days my planning is totally digital, and much looser.
On my best days, I used to feel like I'd make Amy Santiago and Leslie Knope proud.
But only on my best days.
Because one of my lesser super powers is planning more than I could possibly accomplish and then weaponizing the fact that I didn't meet my goals.
This is something that I struggled with for years, and I know that I'm not the only one.
Over the holiday break I would spend several days brainstorming possibilities and blissfully planning away.
Then January 15th would roll around, and I was behind.
…And my self talk would start to curdle.
By April or May, the voice in my head was like a cartoon villain.
By September? You can guess what that was like.
It was so freaking frustrating!
I had a successful business.
I had a team.
I could get results like nobody's business.
…but I couldn't figure out how to make plans that I could actually follow.
And on top of that, as a human who had undiagnosed, severe depression, anxiety, and bipolar 2 until I was in my early twenties?
The negative, anxious voice in my head that played when I was sad or disappointed had worn deep grooves in my brain. It took a huge amount of work to learn new ways of thinking, and to make choosing them automatic. And at the beginning, that work felt like it just wasn't working!
I hope that the shadow side of your relationship with planning isn't as dramatic as mine used to be.
And I'm happy to share that these days my relationship with planning feels light and energizing.
But I share my story so you know that I get that goal setting at this time of year is not always straightforward.
Especially when you've set goals that you haven't been able to hit in years gone by.
If that's you? Please know that you're not uniquely flawed or bad at setting goals for your business.
You're a real human, not a project manager in charge of an insolent robot.
So in case you're in your feelings about the goals you set last year, or the goals you're considering for your online business in 2020, I want to share a mental model that's helped me do and feel tremendously better about this over time.
This mental model is a way of thinking or self coaching myself through my possible choices that's helped me improve the quality of the goals I set, and how I feel about them.
I like to call it a goal filter.
WHAT IS A GOAL FILTER?
A goal filter is a set of questions that you'll ask yourself about any goal that you want to set for the new year. The idea is that you'd need to answer YES – unanimously- to several questions before you put in on your calendar and take it to heart.
Think of it like a test that you design and that a potential goal needs to pass before you commit to it.
I love brainstorming possibilities. My brain can come up with ideas for days, but it can be really hard to limit, prioritize, or eliminate them once I've dreamed them up. And failing to do that causes huge problems down the line.
Using goal filters has been a straightforward way to make sure that I'm taking on the right projects at the right time.

HOW TO USE GOAL FILTERS IN YOUR ONLINE BUSINESS:
Brainstorm 3-4 "test" questions that you want to make sure all your goals can pass.
Brainstorm your goals and projects for the new year.
Ask yourself each question, and don't continue with any goals that don't pass through your filter. (You can circle back to them in time- it's a long life!)
This process lets you approach every goal on your to list, look them straight in the eye, and like so many goal oriented Bachelor contestants before you, say:
TELL 'EM, CORINNE! ONLY THE PURE OF HEART ARE ALLOWED TO STAY ON REALITY TV LONG ENOUGH TO AMASS ENOUGH IG FOLLOWERS TO MAKE A LIVING FROM SHILLING DIET TEA!
ONLY THE PURE OF HEART!!!!!
*shakes fists at the sky*
Whew!
Where was I?
Oh right, BUSINESS goals.
Last week I ran the first quarterly marketing retreat with the members of my program, UnComplicated Marketing™ Academy. As we worked through the Q1 workbook, this idea stopped a number of people in their tracks.
As we talked through it and used the concept together, the goals that started to emerge went from sounding good on paper to being grounded, achievable, and humane.
Frankly, your goals should stretch you.
But if they're not humane, what's the point?
GOAL FILTERS TO TRY ON AND BORROW:
Can I do without "just" working harder or adding more to my plate?
Will this create significant ongoing value for my business? (Time and/or money)
Am I energized by this?
Is it important enough that I can guarantee myself I'll get it done?
Given what I know right now, is the next quarter a good time to start this?
Is this the simplest way I can think of to accomplish this result?
Is NOT doing this holding back my revenue?
Borrow these if you like, and see if you can come up with a couple of your own goal filters that are based on your values and what makes you excited to wake up in the morning.
It makes a huge difference in creating goals that fit this season of your life and business.
For my Q1 2020 goals, this is the four-question filter I'm using:
Does this create significant ongoing value? (in time and/or money)
Is it important enough that I can guarantee myself I'll do it?
Is NOT doing this holding back my revenue?
Am I excited about getting this done?
What's passed through my goal filter so far looks pretty amazing to me.
I'd love to know, does setting up a goal filter change what's on your list for 2020?
LAST UPDATED ON: December 17th, 2019
CATEGORY: All Business & Blogging Posts Business mindset Productivity for Entrepreneurs