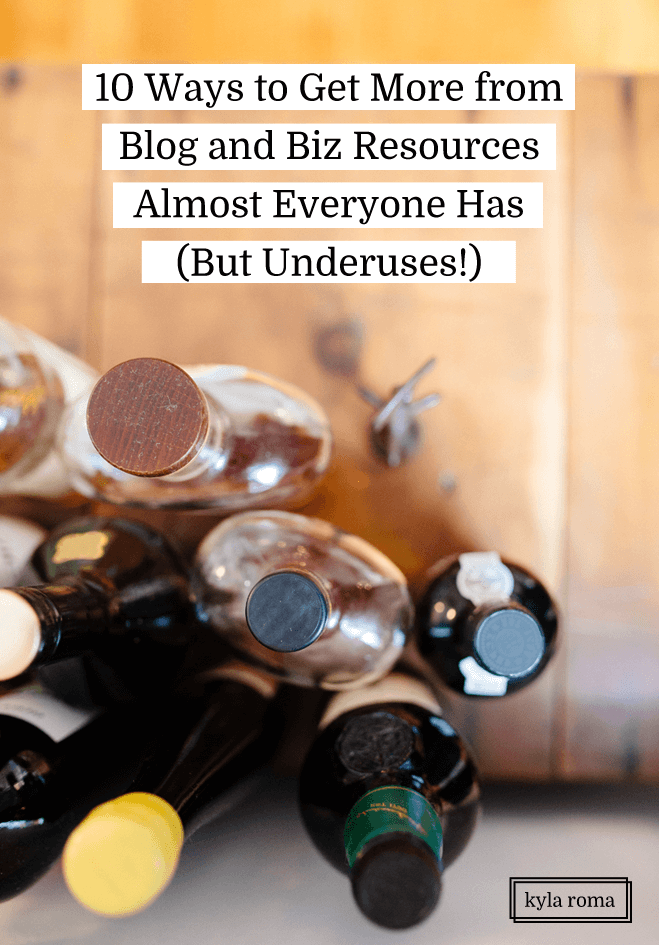 I don't know about you, but new solutions always tempt me. New software, services, and devices are everywhere and promise a life of ease – and all the benefits under the sun down to shiny, manageable hair – on the other side of a "Buy Now" button. I always love trying new things, but as the owner of a small business that's run through my blog, my love of new has definitely escalated.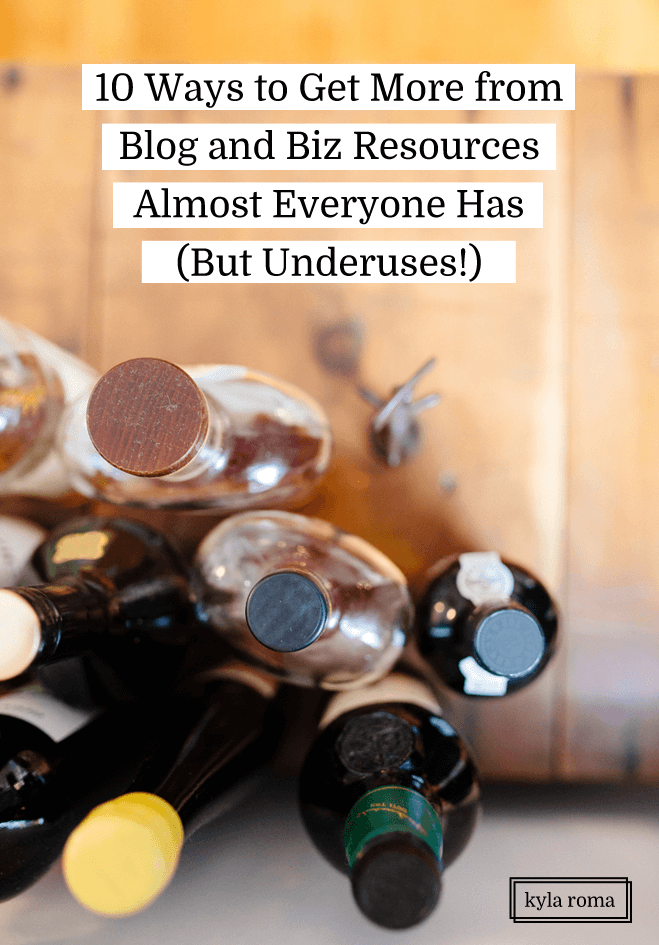 And it's not just me – my friends and clients (usually bloggers, coaches, photographers and passionate creatives) are always finding new ideas and solutions, and get inspired by taking online courses through each year.
I get it. Learning is important – and more than that; it's hard to feel like you're doing enough actually to meet them. And that feeling can wear you down! A new shiny solution is tempting especially when they're designed to look like perfect oasis from our problems.
It's important to remember that new isn't the only – or even the best – answer.
After all, if you can get more out of what you've got, it will lead to less stressed and might not even need to the next shiny new solution you find!
Unless it's really good, that is.
So what can we do instead? Here's a start.
10 Ways to Get More Out of Blog and Business Resources You Already Use
Resource #1: Your Smartphone
My iPhone is my favorite little robot in the world, and yours might be too! Especially if you can get more out of it for your indie business:
? Ditch your news feed, get focused community through Facebook Groups. If you're active in Facebook networking communities, it can eat time – fast. But did you know there's a whole app dedicated to managing groups? I deleted the main Facebook app from my phone so I can't get lost scrolling my feed. I also use Facebook News Feed Eradicator on my main computer. It's my new boyfriend.
? Get quick and relevant analytics delivered at a glance. Sometimes it's hard to get the big picture of what's going on in your online business, latest blog post, or Instagram account. There's a great free app and website called Dasheroo that provides social media and eCommerce statistics that will corral all that information for you and give you a quick view – including your sales (Update: SumAll was originally featured but ended its free subscription service in February 2016)
? Start a daily download practice. Having too many things on the go in your head will lead to overwhelming. Use a free list app or text editor on your phone to list out anything that you're trying to remember. Stop it from bouncing around your mind! You can then schedule it or, file it for future reference – but it's out of your head so you can focus on what's at hand.
? Turn off non-crucial notifications & recommit. I've turned off all but the essential apps I use for maintaining meaningful relationships. Many of the notifications I received were too frequent that I would get frustrated. It went as far as I stopped using my phone to its full extent! Now, I'm in the loop for only what I need. I recommitted to using my phone as a mandatory on the go tool for my business and get more done with less distraction. I love how casual it feels when I get things done on my phone.
Resource #2: Your Internet Friends
I know you have them, but a lot of the time we don't consider our friends as part of our teams. But when you're a little business it's really important to open up your idea of who's "on your team," and your friends are a great place to start.
To start thinking of your friends as active allies in your blog and business:
? Use guest posting as a way to get in front of new audiences. Don't know anyone who writes guest posts anymore? That's all the more reason to do it – you'll stand out. Pitch post ideas to friends and acquaintances who have a slightly different audience than you. Use this as a way to expand your reach that's completely natural and authentic.
? Collaborate and connect. When was the last time you worked with someone on a project? Or bounced your ideas around with someone who's outside your industry? Getting an alternate perspective is crucial to making sure your thoughts are well-rounded and hit the mark. Get out there and reach out to friends and beyond! (Check out the next two tips for ideas on how)
? Ask for introductions. If you're an introvert, this may sound crazy, but hear me out. You can ask your rad, business lady friends to introduce you to other rad business lady friends, in person, by email, or social media, so you can make things happen together. This kind of connection gives you an immediate foot-in-the-door and connects you with all the trust and goodwill your friend has generated in their relationship. Sometimes we don't take the time to appreciate how hard we, our friends, and their friends are working to make amazing things happen in the world. Take advantage of that hard work, to everyone's benefit!
? Learn from an acquaintance you look up to by taking them out for coffee or a drink. You can learn so much from talking with someone you admire, so why not check your twitter friends and find someone who's interesting to you, and ask them out for coffee or a drink? For the price of coffee or a glass of wine, you can speak to people who have accomplished all kinds of incredible things. You don't have to wait for a conference or webinar; you can just ask for one.
If you work online, you can ask for a Skype chat instead. After reading her blog posts and participating in her Facebook group, I asked whip-smart developer Erin E. Flynn if we could have a video coffee date, and we had a great time getting to know each other. That evolved into co-working on a couple of projects that wouldn't have happened without that conversation. Boom! Everyone benefits.
Resource #3: Your Recipe Board on Pinterest
You're not business all the time. No matter how you sort your recipes, prepping and cooking food takes up an incredible amount of time. To get more out of them for your blog or business:
? Bookmark Budget Bytes. Budget Bytes is a food blog filled with simple recipes that are affordable, and easy to make. In the last year, my husband Jesse went from rarely cooking to cooking for us 90% of the time! (Seriously dreamy.) He just followed the recipes, used the photos for reference, and loved how delicious the results were. The recipes are perfect for whipping up on a weeknight. The recipes are written to stretch your budget, teach you to freeze extras and with tips to prep in advance. They let us save time and whipping up tasty food.
? Get more out of your effort and step up a notch to monthly meal planning. This month I've stepped up my weekly meal planning to monthly meal planning. Last weekend I went grocery shopping and bought all the non-perishables we would need for the month, and I already have a weekly grocery list of the fresh food we need completing. It took an afternoon and is going to save me time each weekend, all month. I use the same method as in my weekly meal planning blog post, and then just start pulling recipes again for the extra weeks before breaking out the ingredients.
I know you have some great ideas for getting more out of what you already have, or using your systems more effectively. Let's jump in and brainstorm!
How do you squeeze more out of the tools and systems you use? When was the last time you found a new feature or use for a tool you love?
One of my favorites for blogging is learning how to use the WordPress SEO by Yoast plugin. It's beginner friendly and can help you increase your search engine ranking with a tiny bit of effort.
LAST UPDATED ON: February 10th, 2015
CATEGORY: All Business & Blogging Posts Productivity for Entrepreneurs