Deciding how you're going to blog is one of the first decisions you make as a blogger or when you're dreaming about starting a new business, but making that decision can feel like a guessing game.
Everyone has an opinion, there's a lot of technical talk, are most of those opinions are based on priorities don't line up with your own. So how do you choose? Can you really know if you're making a decision that will work for you now, next year or five year's from now?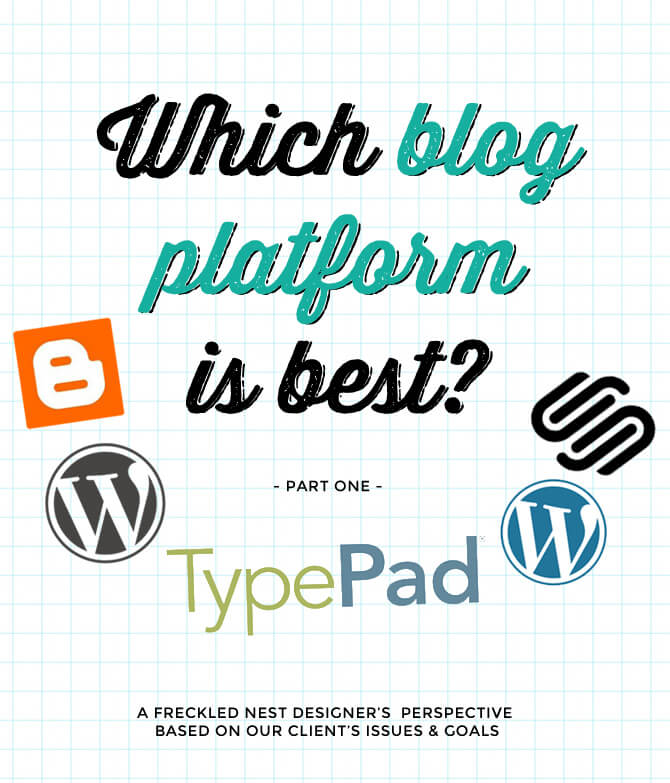 While I'm far from unbiased, I'm always advising clients on choices just like these and we wanted to open up that conversation in case you're having trouble making up your mind.
So let's take a look different platforms, their benefits and drawbacks, and think about what could be the best match for you.
Before we do that let's clear up a couple of basic pieces of terminology:
The service that you blog with is known as a platform. Blogger, WordPress.com and TypePad are blogging platforms. They're also sometimes known as content management systems, and you can think of these as the way you see your posts, write your posts, and change important settings that have to do with your blog. These services are like a word processor, in that they allow you to create content but that content then needs to be stored somewhere.
Where your blog's posts, settings, comments, and everything to do with your blog is physically stored online is known as hosting. Many blogging platforms, especially entry-level ones like blogger, include hosting for free with their service. Other blogging platforms, like wordpress.org, are "self hosted". This means that users need to purchase posting online through another company and then install the platform on the hosting that they purchase. This used to be complicated, but all modern hosting providers now offer one-click installation of popular platforms like WordPress.org
Today, in part one of Choosing a Blog Platform we'll look at some of the most common platforms and in part two we'll get more specialized and advanced.
Blogger
Blogger is one of first platforms that many bloggers try out in their blogging journey. Blogs hosted with Blogger include basic hosting, so you can skip the technical and get straight your writing. Blogger allows for some customization but not for adding new functions into your site like a shop, or selling digital products (though workarounds exist). There's a vibrant community of designers to create out-of-the-box themes that can let you customize your account.
Best fit for:
Beginners, people to love to tinker with their blogs but don't want to get technical & hobby bloggers.
Not great for:
Running a business, scaling to a larger audience, or people who hate captchas.
Typepad
Typepad is an interesting beast. There are large sections of the blogosphere, especially in craft and handmade communities, that are filed with Typepad bloggers, largely due to early adopters with large communities. TypePad's accounts include hosting, and their paid accounts include an unlimited number of blogs – which comes in handy if you want to sell online courses.  (As long as you don't mind everyone having the same access information.)
TypePad's dirty little secret is that they've made the platform is extremely difficult to leave. There is no tool or mechanism to let users save or export the images from their blogs when they leave, which is an intentional gap that feels like it was dreamed up by someone twirling an old timey moustache. If you're really persistent you can request all your account's files, but there are many accounts of incomplete files being sent to customers, so you need to be very diligent.
The best thing about Typepad is that it comes with built in support if you need help, which can make it feel like a safe option for new bloggers. Typepad allows a significant amount of customization too so if it feels like home for you and portability isn't an issue, it could be what you're looking for.
Best fit for:
Beginners who are certain they want to stay with the platform, creating small to medium scale online courses, having a dedicated support team built in.
Not great for:
Portability, owning your own images, or people who worry about stockholm syndrome
WordPress.com
If you're wondering why there are two WordPress logos in the image for this post, you're not seeing double:  there are two "flavours" of WordPress out in the wild. WordPress.com is the entry level version that's very similar to Blogger and the free Typepad account. Accounts are free, there are pre-designed templates you can choose from, and hosting is included. In recent years, WordPress.com has expanded their offerings to include domain purchasing, customization add ons for a fee, and some basic support.
This version allows some customization, but it's important to know that it doesn't allow enough to make a full custom design possible. If you've heard people praising WordPress, it's very likely they were praising it's big brother WordPress.org. Luckily, this is a good place to get started and they now offer transition services to WordPress.org for a fee.
One note: If you have a WordPress.com blog and want to buy domain name, buy it through a reputable host instead of through WordPress.com. Taking your domain name with you if you choose to leave is technical and time consuming.
Best Fit For:
Hobby bloggers & testing out WordPress to see if it's a good fit
Not Great For:
Running a business, scaling to a larger audience, buying domain names through.
In the mean time, we'd love to know how you decided on your blog platform, if you love the service you use to blog, or if you're itching to switch it up! Do you have any questions about choosing a blogging platform? Let us know and we'll answer it in the comments.