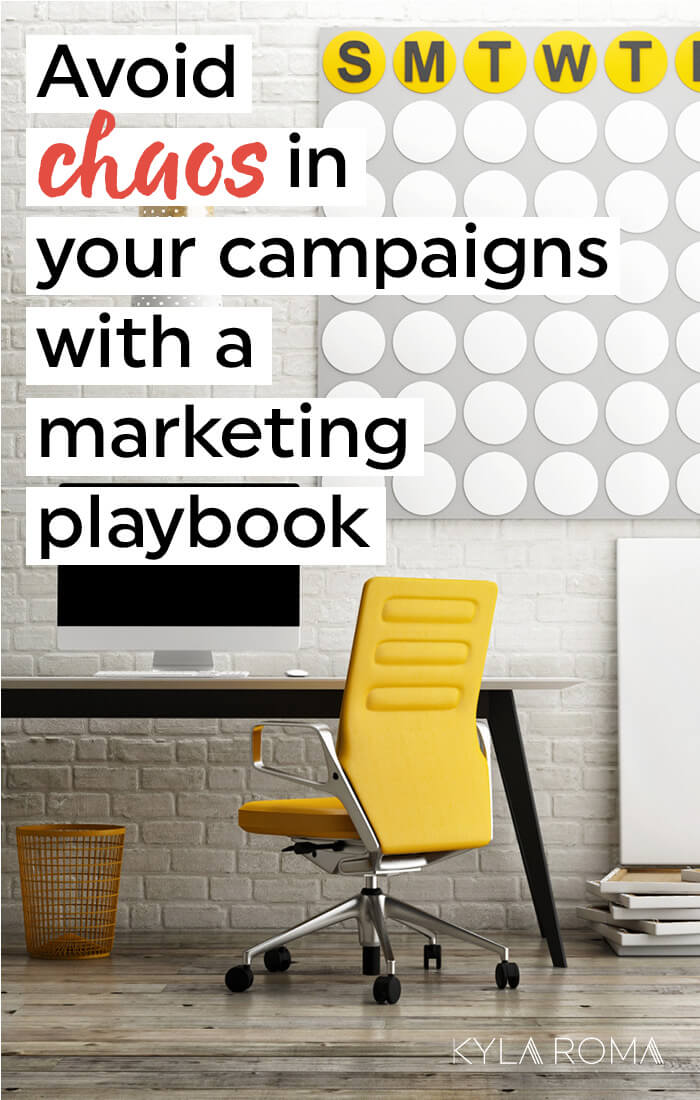 Running a marketing campaign for your business feels chaotic, right?
So much work goes into a campaign in the hopes of a big return. It can be emotional and stressful and sort of crazy feeling. Recently, I shared my view that confidence is the cure for chaos. (You can read that post here if you missed it.)
But, even when you believe strongly in the value of your work and the quality of your message, you can still get frazzled. There's just so much to do for each campaign or launch. Often it seems that even seasoned pros are "reinventing the wheel" each time – trying new tactics, pulling together content, and assembling a team to help you.
A marketing playbook makes marketing sustainable and less chaotic.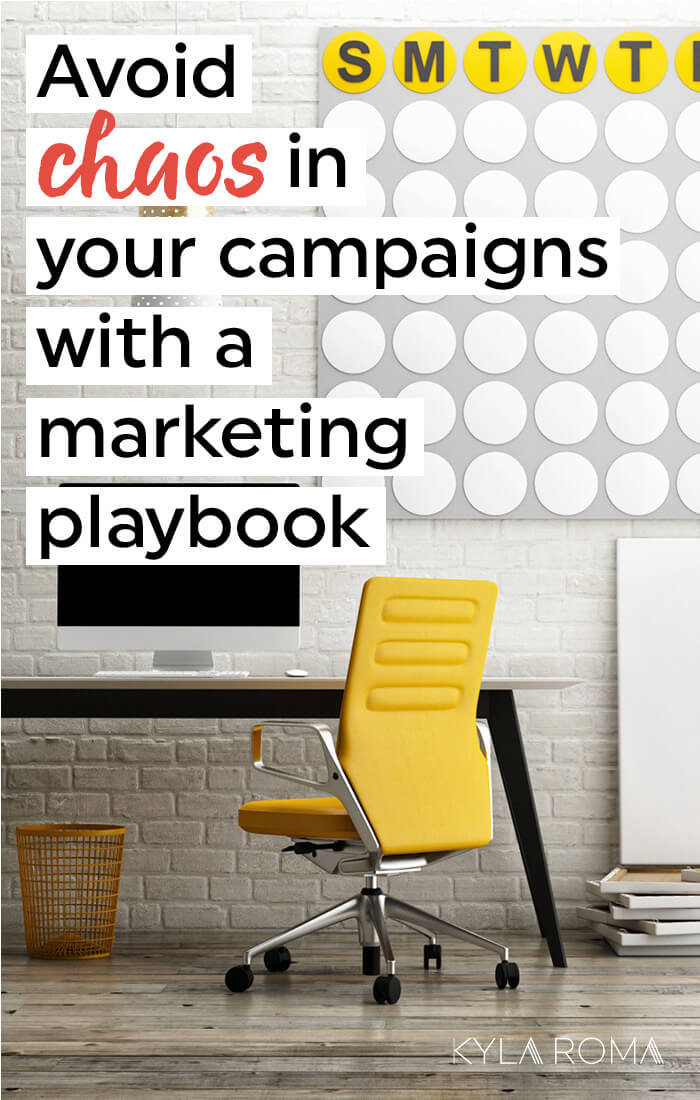 A marketing playbook is simply documentation of the key components of your sales system with a special emphasis on the crucial steps of each campaign. The format isn't as important as the content – you can create your playbook in a tool like Google Docs, Evernote or Asana. You can even make a manual guide in a binder if you're old school.
But, regardless of how you put it together, your playbook should include some essential elements.
Your Marketing Playbook:
Rules of Engagement
Marketing involves engagement with your audience. You answer questions, respond to comments, and post new content. You evaluate opportunities to expand your reach – maybe through collaborative opportunities like guest posts and podcasts. Lots of decisions are made quickly, especially during a campaign.
That's why everyone on your team (including you) needs to know the rules and have a way to easily access them if something seems wonky or unclear.
Think through what you will and won't do when marketing your products and services, and then document your rules using simple, clear language.
Here are a few examples:
We will…
Respond to inquiries within 12 hours.
Use positive, upbeat language.
Invite people to join our free Facebook Group.
Offer multiple payment options from our approved list.
Use these social media platforms…
We won't…
Ignore complaints or audience expressions of frustration.
Negotiate deliverables or pricing of our offers.
Use these social media platforms…
Get the idea here? By clearly defining what you will (and won't) do as a team, you create internal expectations and external consistency during your launch.
Your audience will hear the same tone, feel supported consistently by everyone on the team, and know exactly what to expect. Team members will have simple boundaries to guide them as they move through the campaign, creating confidence throughout your organization.
Roles and responsibilities
Unless you are truly a solo-preneur who does everything (and I mean everything) on your own, you have a team. From programs and services to contractors and freelancers, you assemble a team of skilled support to work with you during each campaign.
To avoid confusion and encourage collaboration, include information about roles and responsibilities in your marketing playbook. This way everyone understands his or her role, how their work impacts the team – and everyone doesn't have to go through you.
(And bonus points for not asking freelancers to attend your long, group launch meetings.)
Creative Work:
Who will design the graphics and write the content?
How far in advance do we need to book freelancers who will be doing this work? (Hint: more than one month's notice is standard)
Who will approve it and what is the approval process?
Where can others go with questions or to access the creative assets needed during the campaign?
Customer Experience:
Who is the primary contact for potential customers?
Who is tasked with responding to social comments and inquiries?
Are there any live events that require real-time support?
Are there templates to guide responses or answer questions?
Administrative Work:
Who is the administrative lead for the team?
How are administrative duties divided within the team?
Who handles escalated issues or concerns?
You may also want to include contact information for key team members – including their time zone and working hours – and outline suggestions for how to best communicate inside the team. Will you use a tool such as Asana, Basecamp, or Trello to collaborate? Will you communicate via Slack or share documents using Google Drive? Include this info in your marketing playbook.
Resources and readiness
Your marketing playbook isn't complete without a plan to prepare for and curate the resources everyone will need to execute. Your goal here is to guide training, encourage continuous improvement, and make it easy to access the tools needed to promote your products successfully.
Resources: Each campaign includes a mix of ad graphics, planned posts and content, videos and webinar slideshows, and freebies to build engagement, etc. Even small things you might take for granted, like official branding, fonts and color codes shouldn't be overlooked. Curate these resources so everyone on the team knows what to use – and where to find it – as they work. Make this easier for yourself by making a systematic way to find new information added after you write the playbook. For example, you could decide to give each campaign a new, named folder inside of a google drive folder called "Marketing."
Training & Reference: In a perfect world, every member of your team is adequately prepared for each campaign and comfortable in their role. In the real world, we use checklists, training materials, and background information as reference to help us complete our tasks. Compile that information and include it in your playbook.
Continuous Improvement: Sometimes things go sideways in the middle of a campaign and sometimes we have a great idea or inspiring thought as we're working the plan. These challenges and bursts of creativity are opportunities to improve for the future. Give your team a way to track these moments and report them to the group, and then set the expectation that ideas will be discussed after each campaign.
Your marketing playbook is a tool to help you build a sustainable, scalable sales system for your business – one that delivers results for you and your team. Of course, there's a little more to it than a playbook. That's why there is the Indie Business Intensive my one-on-one coaching program for deep dives into your business. 
LAST UPDATED ON: October 3rd, 2017
CATEGORY: Attract your ideal customer Conversion Optimization Productivity for Entrepreneurs