I've written about how my story of being diagnosed with Depression and Generalized Anxiety Disorder (GAD) a number of times on this blog, but it's been a long time since I gave an update. If you're newer to my blog this post might be a surprise, but I come by my love of psychology, resilience, motivation, and unbridled positivity whenever possible honestly. In 2010, I was diagnosed and since then my life has changed dramatically for the better.
If you'd like to, you can read about my initial diagnosis and a follow up from later that year, but before I share the things that have helped make my life with Depression and GAD so much better, I wanted to share what's changed since that original post and my diagnosis as I've learned more about myself and what this means for me.
What I Got Wrong & What's Changed
A lot of my assumptions about what I was experiencing in the beginning turned out to be wrong. Strange right? This is the short list.
I thought I had GAD with an episode of depression
When I was initially diagnosed, my GAD symptoms were an urgent, all-encompassing and exhausting part of my daily life. It's like living life with your startle response and stress dials set to 7,  and any more stress that would normally bother a normal person, like going to the grocery store, writing an important email, or going out with friends, would be interpreted by my body as dangerous.
As my symptoms receded and my medication start being effective, I felt so much better. But in the years since my diagnosis, my depression symptoms have been just as persistent, difficult, and present as my GAD. Looking back at my teenage years and twenties, I can see that depression was always a huge part of my life, but until now I didn't understand that wasn't my natural personality.
I thought my depression was mild until it was life threatening
None of us knows how it feels to be another person, so it's hard to know when what your feeling isn't normal. But the slippery thing about mental illness is that it profoundly changes your perspective on how it feels to be you. I had no idea my depression was severe because as I became more and more depressed, I stopped being able to remember that I had ever felt differently.
When I was in the worst of my experience I knew that I used to have more energy and feel happier, but the depression and GAD were such dampers on my perspective that I couldn't imagine or remember what feeling better felt like. In the end of my worst episode I was too tired to be awake for more than a few hours at a time, and I would feel heart-broken, like I was grieving an unimaginable loss, the whole time I was awake.
Even then, I only went to the doctor because in one of those moments I thought, "I can't imagine feeling like this for another week. Actually, I can't imagine feeling like this for a few more days.". I thankfully had the insight to know that was a suicidal thought, and it terrified me. I shouted for my husband, and we made a doctors appointment.
I thought getting help would be scary
I hear this a lot from people experiencing what they suspect might be mental illness, and who are terrified about getting help. Speaking with a doctor makes everything feel so much more real, and when I was in the thick of my worst feelings, I just wanted these feelings to go away on their own.
The thing I didn't realize was that I was in the absolute worst part already. Knowing what's wrong doesn't hurt you any more. It opens you up to help, resources, services, knowledge, and community. Knowing what's going on opens a window that lets all kinds of good flood in.
Your doctor won't force you to take medication. Your doctor will be a neutral outside party who can take your experience and objectively help you understand what's going on. When you're sick your perspective isn't reliable, so having someone on your team who has done this before and sees things clearly is the best time and money you can spend.
I had no idea how much of what I experienced daily wasn't normal (and was optional!)
I used to have a meltdown at least once a week. My husband and I would fight or get stuck in a misunderstanding about nothing and it would end it tears.
I would play conversations over in my mind on endless loops, especially ones where I did or said something I regretted. I had repetitive thoughts or day dreams that I couldn't switch off. I spoke quickly (though I didn't think so at the time) and frequently caught myself holding my breath. I hated calling people on the phone or speaking to people I didn't know, I tired out easily and needed to nap on the weekends and be caffeinated at all other times. If someone startled me, I had a huge reaction and couldn't watch any movies or shows with jump scares.
Thinking back through my life, I was younger, I would have crying episodes at least once a month where I would cry so hard I couldn't breathe. I would get extremely frustrated and angry at times, over what seemed like nothing. Going to new places or meeting new people was extremely stressful, so I invented workarounds like visiting a new place the day before so I could plan where I would park and how I would walk to where I was going.
I was still myself. I was smart, quirky, and had it together, but no one – myself included – had any idea something was wrong until it escalated out of control.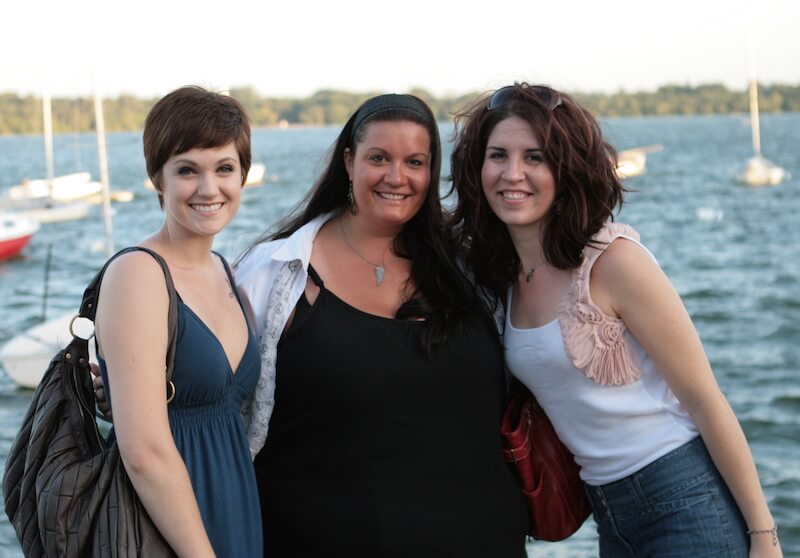 In Minneapolis with my friends & heart people, Mandy and Nora in 2010, when my GAD & depression were escalating. I was exhausted all the time and while I was positive and tried to fit fun in my life, it took a huge amount of effort. I didn't do it to try to fit in, I did it because I thought everyone else felt the same way.
.
We can only know what we experience, and I didn't know that these are all symptoms of high anxiety, stress, or depression. And I'm  happy to say most of my life is now completely symptom free.
How I live (mostly happily) with depression and GAD
I know that I'm lucky. I'm sorry if you're reading this and your situation is harder right now. I'm extremely lucky that my illness isn't treatment resistant, that my symptoms aren't not any more severe than they are, and that I haven't had to switch between meditations.
I'm also extremely lucky to have met the man I was going to marry when I was 19, as my illness started to escalate. Jesse was just as loving, observant, non-judgemental, patient and hilarious then as he is now, and because we moved in together in the first year of our relationship, I had someone close to me who could help me watch my symptoms change when my perspective on what was happening wasn't clear. (There isn't enough gratitude or thanks in the world for him!)
These are the things that have helped me:
1. I spoke to my family doctor and was open to medication as emergency help
When I had my first suicidal thought (Unwanted! Though I'm sure they all are) it frightened me enough to shock me into action, and for that I'm forever grateful. My doctor completed symptom check lists with me, and I fit the profiles for both depression and GAD to the letter. Because I was in crisis, my doctor and I decided that a prescription was the fastest way to get me out of short term danger. I tried Effexor, and after we got to a dosage that I started responding to and some time passed my life started feeling radically different.
Immediately, I was amazed by how much better I felt knowing that I was working on a solution with someone else in charge, because I felt strongly that this was beyond my control. Within three months I felt better than I'd ever felt before, and was constantly asking my friends and family "Is this what you feel like normally? WHY DIDN'T I KNOW THAT???" and in six months I felt twice as good as that. Within nine months I felt even better, which was worlds beyond what I had ever dreamed for my life, and when I started to truly appreciate how severe my situation had been.
I still have bad days every couple of months, and the stark Canadian winter makes my depression worse. I've been on a high dose (over 200 mg) of Effexor ever since and taking medication every day doesn't bother me for even a moment, even though I thought it would. It's what allows me to wake up happy, energized and excited for my life, being able to be there for my friends and family, doing work that I love and working for myself.
2. I started cognitive behavioural therapy & told my friends and family what was happening
After starting medication, I found a cognitive behavioural therapist and started going to regular sessions. I found the therapy approach profoundly interesting, but my therapist abrasive. There were some helpful pieces of what she worked with me on, like slowing my speech down and making sure I was breathing properly, but we weren't a great match after the initial few sessions. As I learned that cognitive behavioural therapy is all about symptom reduction, and dove into everything I could read on it so I could start putting them into action without hefty therapy bills.
At the same time, I told everyone I love and cared about that I was diagnosed with GAD and depression. At the time, I felt relieved that there was a solution, but also mystified that I had lived alongside side people whose lives just felt completely different from mine.
I shared openly because I felt shocked and excited, but I unintentionally recruited a big group of caring friends and family, and set the tone for how we would talk about depression and anxiety together. This wasn't frightening or emotional, it was a fascinating discovery that from that moment forward my life was going to feel better and better. I couldn't stop talking about how we could all be so close, and still have missed that we were experiencing life differently.
My friends and family stepped in beside me, and as I stopped having to fight through the sadness and anxiety, there was a lot of celebrating to do. I was quick to laugh, more positive, curious, adventurous, and myself than ever before, and it was a joy.