My business strategy clients often worry about if social media is right for them, and if a profitable social media presence is even possible. My answer is that if you like spending time on social media, then it's worth trying it out. Social media is a big part of my business, but I view it as part of a long term PR strategy. It can build your community and profits, but that doesn't happen by accident. You have to design it to be motivating, profitable and helpful to your community.
That means getting real and specific about what your goals are as a content creator on social media. It means putting your audience's interests before yours, and measuring your results so you learn how to improve. (This is where hard work & discipline set you apart!)
And it means being honest with yourself that the more time and energy you put into anything that doesn't lead to revenue, the less you get back from your business. Using social media without a business strategy means you be effectively lower your hourly rate one status update at a time.
But some strategic decisions can make your social media presence work hard for your business.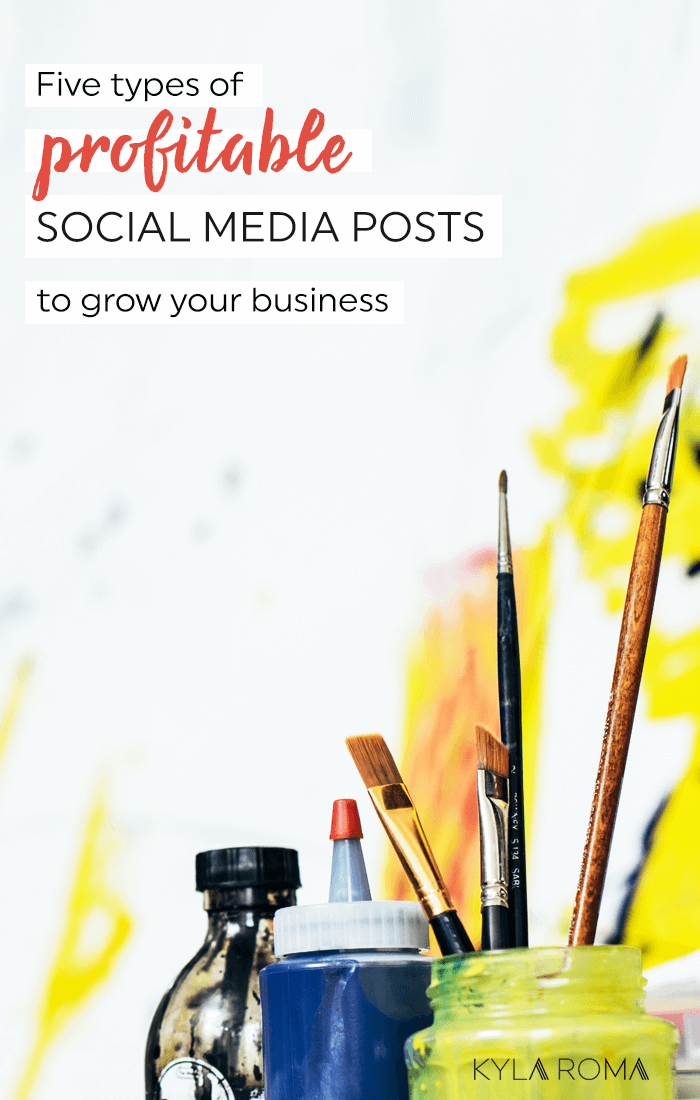 That said, a manageable profitable social media presence is a great long term strategy for your business. But that means you need to share posts that go beyond inspiring your followers and lead to profit. Sound too good to be true? It's not!
In my 10+ years as a content creator online, I've learned these tips the hard way (and wasted a lot of time using  social media in ways that didn't help my business).
Here's are five ways to make your social media posts profitable for your business:

#1 Let people know you're accepting clients
Even though this first point might seem like a super simple thing to do, you would be amazed how many business owners forget to do this. Give a shout out on social media that you're accepting clients, or add a link to your sales page. Or ask your followers to message you their questions on how you can help them.
This doesn't mean that your social media presence is all about self-promoting. It just means that it should be part of the mix. Simple, yet super efficient.
#2 Share an actionable tip that creates a small win
Sharing a tip through social media that will help your followers move forward in their business is a huge thing. Remember to ensure the insight is useful to the reader. The tip should tie in directly with the same itch your products or services scratch.
Example: If you sell a course that helps people declutter their home, give them a tip that helps them clear away visible clutter in a particular area. Or that makes a difference in just five minutes.
Anything that creates a small win is helpful for your ideal customer. This isn't about holding something back so people will buy from you. It's all about helping them do one thing that will make a difference. Make sure it's small enough so they can try it during their business day – and see that change is possible.
#3 Demonstrate results
The best way to show people who you are and what you can do for them is through the words of your former clients. Don't be afraid to share customer testimonials, or a client win. It shows your followers that you are an expert and that working with you will grow their business. It will make them curious about who you are and what you can do for them. Or more specifically how you can help them get the same result.
#4 Be helpful
Do you see someone struggling with a problem that overlaps with your business? Offer to help. Recommend resources, connect people to freelancers they should know, or give them a helpful tip. Just be helpful and invested in helping them move forward in their business. Anything that will help your followers out is an excellent way to connect with them.
Do you feel like there is not enough time to spot these little calls for help? Jump on social media when you drink your coffee, search a hashtag and reply to one person, then log off. Problem solved!
#5 Share your big why
When was the last time you actually shared why you do what you do? Is there a situation that made this crazy dream of yours too important not to chase? Why do you love what you do? Stop sharing lukewarm old blog posts and tell the story of your big why! Share your story.
Your "a-ha" moment is a perfect reason to write a blog post, and then give us a taste of it on social media. Just be sure to share why you love what you do in the post! Be real, be authentic, and don't be afraid to show vulnerability too.
And lastly, remember you are not bothering anyone! I know it might feel like this, especially if you feel uncomfortable promoting yourself. Just remember, they are following you for a reason. Your followers are curious about what you do, how you can help them. Some of them are thinking about hiring you and use social media to see if you're the type of person they need.
So be genuine, help people, and just be yourself. But most of all, follow your gut and whenever you find something that works for your business, stick with it.
Do you use social media to create an impact with your customers and followers? Where do you get stuck? Share your questions or approach in the comments below.