One of my favourite ways to stay focused on my passions is to keep my head in the game. No matter where you work or what you love, it can be hard to make that your full time work- but that doesn't mean that you can't live your passion. How do you do it? Find new ways to explore your passions!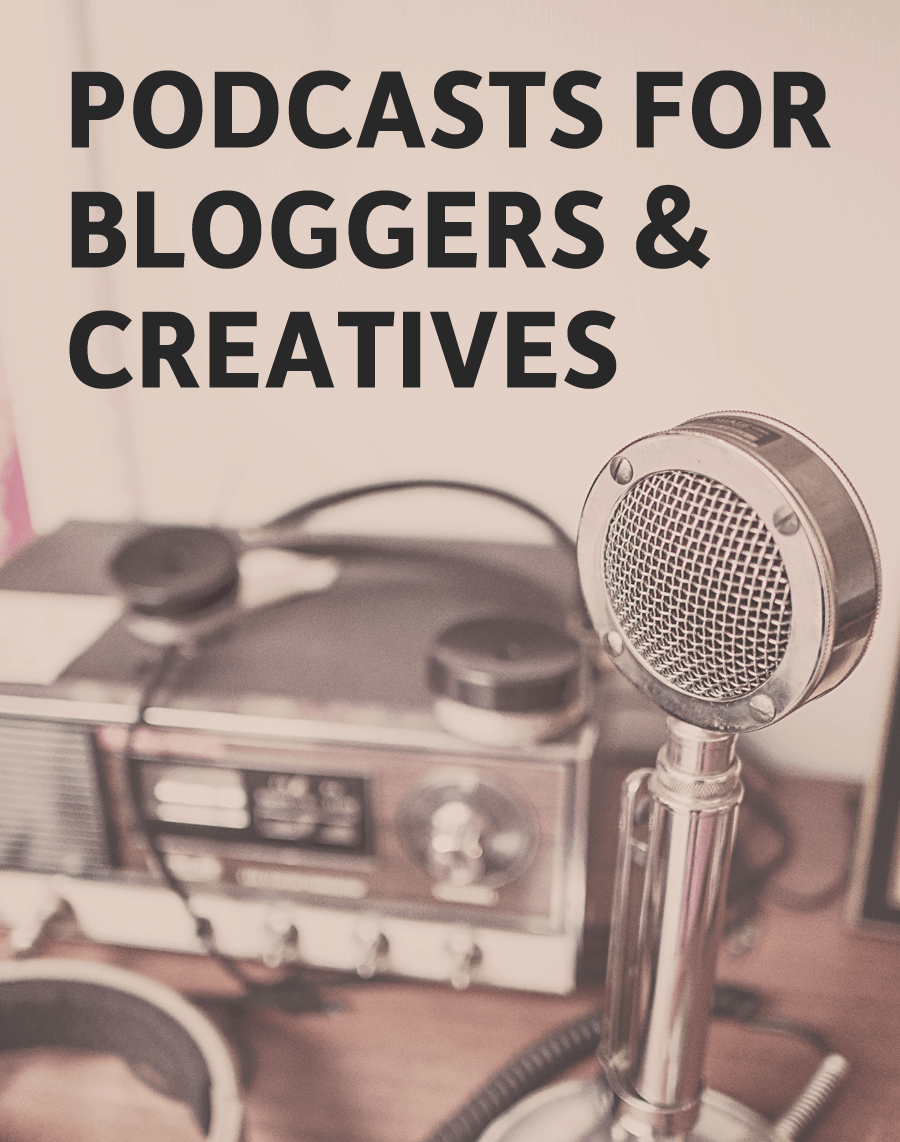 .
A simple way to live your passion is to start seeking out media that's focused on the things you love.
Podcasts are on demand radio shows that you can download and then listen to while you're on the go. You can listen using an app, like the built in podcast app on Apple devices or using Stitcher on almost any device.
These are some of my favourite  podcasts that I've found over the years, and my suggestions for starting points to make this part of your life…
.
Podcast Recommendations for Creatives, Small Business Owners, Bloggers & Pop Culture Lovers
.
Blogging & Business
After The Jump
Design*Sponge blogger, Gracy Bonney talks design, blogging, and what it takes to keep a creative project going over the long term.
Glambtion Radio 
Women business owners who pull in six figure incomes (and beyond!) are profiled and share their stories, best decisions, and what they would recommend if they were starting today. A motivational resource to get you thinking big!
The Smart Passive Income Podcast
Interested in making money online? This podcast has details on affiliate programs, selling online, content marketing, and everything you need to know to make your blog into a money maker.
Elise Gets Crafty
Elise Blaha takes readers behind the scenes in blogging and small business. A great resource for bloggers and crafty ladies who are starting out in online business.
The Tim Ferriss Show
Business junkie/genius, New York Times best selling author and blogger, Time Ferriss is a has just started his own podcast! He interviews people and offers insider insight that's hard to come by and tested on a huge scale.
Small Business, Big Marketing
Interviews with business owners about how they got where they are, delivered in Australian accents.
Content Warfare
A new podcast that focuses on creating content. It's great for bloggers & business owners
Lifestyle
Kyla Roma
(plug alert!) My monthly podcast is delivered by email, and talks about creativity, productivity, living well, and having a life that you absolutely adore from the moment you wake up.
The Art of Simple
Simplicity blogger and mama, Tsh from The Art of Simple talks with friends about blogging, living simply, and making life work. This podcast is great for parents, and for anyone wanting to tone down the busy in their lives.

The Sarah R. Bagley Podcast
Blogger and recovering perfectionist, Sarah Bagley, talks with guests about how you can stop chasing perfectionism and start living a B+ life that actually feels great.
Joy The Baker
Funny and conversational, Joy & her lovely co-host Tracy from Shutterbean banter about being in your later 20's / early 30's, blogging, parenting, and the things they love.
The Savage Lovecast
Love, sex and relationship advice from Dan Savage! I look forward to this every week. His perspective is mind opening and hilarious.
America's Test Kitchen
Fabulous cooking show with a call in line for culinary questions & help requests that can teach you an incredible amount just by listening to. I've started play a game where I shout out "ADD A TABLESPOON OF WATER TO COMPENSATE FOR THE LACK OF HUMIDITY!" before the hosts gets to their suggestions- and it's made me a much more savvy cook.
Pop Culture
NPR: Pop Culture Happy Hour
"PCHH" is incredibly funny, quick witted, and a great place to listen to NPR writers and editors talking about pop culture that's not quite so high brow. They bring all the smarts they normally have, but they focus it on TV and romance novels. A must listen every week.
Rob Has a Podcast
Intelligent and entertaining recaps of reality television, by a former Survivor contestant. His savvy about how the producers of  these shows plays into the final product is incredibly insightful and will help you watch watching your favourite shows (and he talks about tons of them!) in a new light.
This is Reality with Jason & Molly Mesnick
A married couple who met on The Bachelor, Jason and Molly are on the inner circle of The Bachelor and The Bachelorette. Their episode commentary is funny and positive, and they explain all the behind the scenes details of how the show represents different characters, how the dates are planned and how much (which is little!) control each Bachelor or Bachelorette actually has over what happens on their season.
Old Time Radio Thrillers & Old Time Radio Mysteries
Rebroadcasts of old thriller and mystery radio shows- complete with old commercials. The stories are often unintentionally funny, and the old style of the ads is fun to listen to. (More proof that I'm an 80 year old trapped in a 20 something's body)
Entertaining History, Science & Economics
Sawbones
This is my favourite podcast of the moment – it's hilarious medical history about the ineffective ways we're tried to cure people. The hosts are a married couple
Stuff You Missed in History Class
Constantly updated and very entertaining, a good place to learn more about history with a healthy dose of mysteries, exhumations and royal childhoods.
WNYC's Radiolab
Science with a story- this is one of my favourite podcasts for learning about things I wouldn't encounter otherwise and it's a beautifully put together show.
NPR: Planet Money
Economics with a "This American Life" storytelling approach. Helpful for understanding big issues or anything financial in the news, and it's actually fun to listen to!
We all have the same number of hours in the day, but we all get to decide what we focus on.
Keeping you mind on my passions can super charge your inspiration and make it easier to dream up creative ideas. There's nothing like having your mind always come back to a place of possibility and focus.
What are your favourite ways to stay focused on your passions?