One of my favorite pairs of glasses is one of my oldest- case and point: check out my old bob!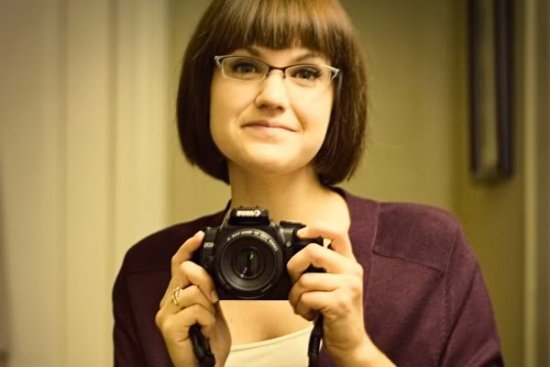 I love how these frames are light and have architectural lines, but I've wished they were a little bolder and geeky. The shape of the frames is my ideal- a modern cat eye look, but because the edges are silver the look is lighter than it could be. Being me, I couldn't get the idea out of my head once I thought about changing my frames, so I started scheming ways I could paint out the silver on the frames and make them all black and bold, and I thought I'd share a DIY glasses makeover with you in case you have old frames with a great shape that you want to update!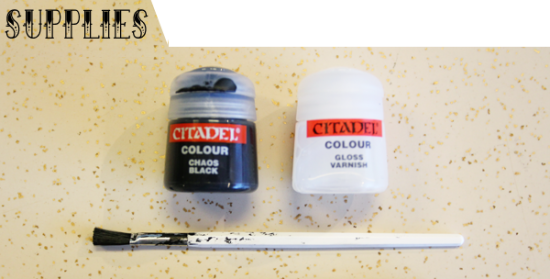 a pair of glasses in need of a new look
a fine paint brush (brushes for model cars are perfect)
One pot of colored paint
One pot of clear coat paint
Before You Buy Paint: I highly recommend you use a paint made for customizing Warhammer figures. The brand I used is called Citadel. You can get it (or a similar brand) at many comic book and game stores (call and ask if they have Warhammer paint before you go to visit) or through Amazon (affiliate link)
Pros: I recommend it because it's water soluble which means that it's really easy to work with, you don't need anything special to clean your brushes, and if you make mistakes or get paint on your lenses you can easily wipe them clean.
Cons: Most paint made for painting models is acrylic, and Citadel paints are too. This means the paint is not waterproof or permanent- but I have worn the painted pair daily for over a year, without any chips, paint transfer or issues. It's been extremely durable for me. If you're considering painting your glasses, the other common option is to use nail polish and this as a more reliable option than nail polish. The paint dries with a beautiful matte finish and makes them look like normal frames when you're finished.
Update: On metal frames: My results were great! The paint job on the frames is durable and stood up to daily wear for over a year.
Update: On plastic, Warby Parker frames: This went SO BADLY!! I used the same paint and the same technique, and while it looked great to start it didn't even stand up to two weeks of wear.
If you're not sure that this is the best fit for you: buy a pair of reading glasses from your local drug store that is made of similar material to the glasses you'd like to paint, and use them as a test.
Full Tutorial Post Below – Pin for Later:
Step By Step Tutorial
1. Set out your supplies and some paper to rest your brush on, along with a little water and paper towels or Q-Tips to wipe up any mistakes.
2. Start with one-half of the glasses – either the arms or the frames around your lenses –  use long strokes and a thin coat to cover the frames thoroughly.
3. Let them dry completely before moving on to the next section. This will let you hold them without wrecking your beautiful work!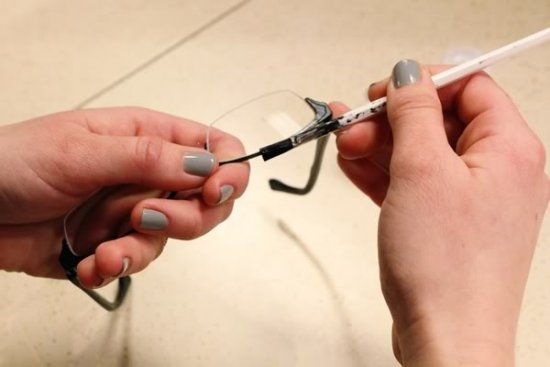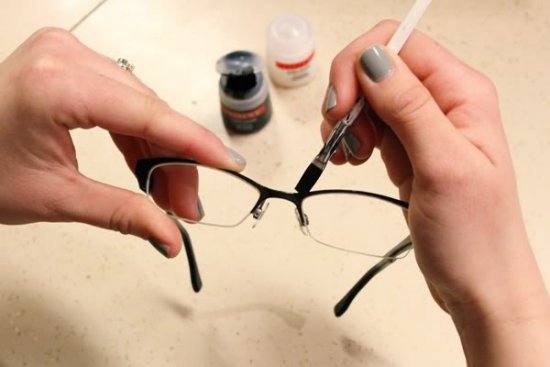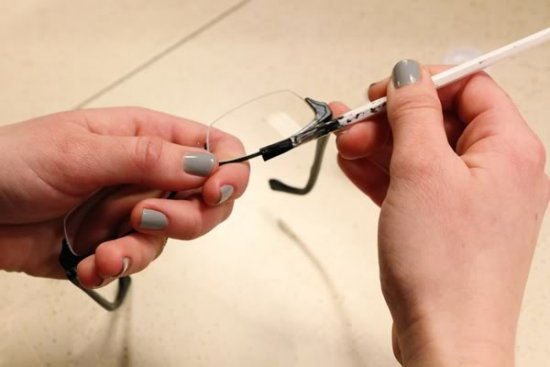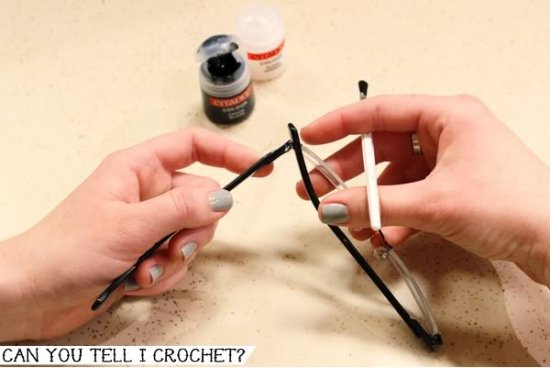 4. Go slowly and use a steady hand. Remember that the paint is water soluble. You can wipe up any paint that gets on the lenses as soon as it happens. It will come right off.  Yay!
5. Once you're finished the first coat, consider if the paint coverage is appropriate. If it isn't covering your frames fully, repeat steps 1 – 4 again before moving on.
6. When you're ready to finish your work, wash off the brush with soap and water and dry the bristles thoroughly.
7. Then apply a clear coat of paint to finish your glasses. Use the same painting method,  and you have a new look for old frames that are even more chip resistant!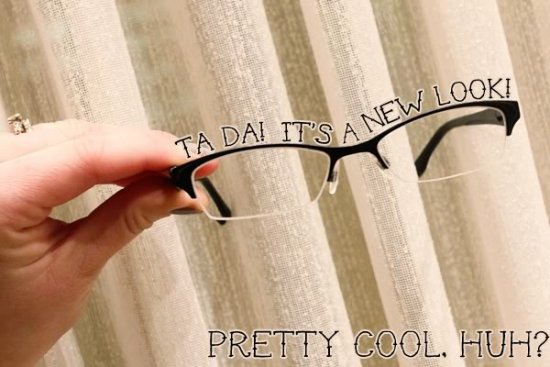 My new old glasses are my new favorite thing!