I just deleted and reinstalled Twitter from my phone, again, in an effort to choose exactly how "up to the minute" I want to be on this news cycle.
My sister lives in Berlin. I have family currently traveling.
I remind myself that it's natural to have some anxiety about… my anxiety. (lol)
Finding what "balance" looks like in a pandemic is hard.
But in the middle of it, I've been so relieved to have a few trusted business friends I can go to.
So my questions and worries…
…"Are you still selling?"
…"Did you turn off your pre-scheduled social media posts?"
…"Have your FB ads seen any changes in the conversion rates?"
Those thoughts all have somewhere to go, rather than just rattling around my head and my heart.
Here's what else I'm doing:
In my business, I'm watching my numbers.
I'm remembering what it was like to start side hustling in 2008, and to become self-employed in 2009 during an intense economic depression – and how my business always thrived through that.
I'm sticking with my plans to open doors to my program in the upcoming week because it's how I can most be of service to you.
My business donates a portion of my program sales to Bear Clan Patrol, an Indigenous-led neighborhood patrol group in my city. I'm making sure our last round of donations is current.
And I've been thinking a lot about how I write to you every week, and I want you to feel supported. I want your worries to have somewhere to go too.
So I'm hosting a free, online group coaching call next week, to hold space for a community conversation about ethically marketing our tiny businesses during a pandemic.
And frankly, to process what it's like to have a business at this moment in time.
Now, there is no sexy landing page.
There are no right and wrong answers, or polished list of "top 5 things to do…".
It's probably going to be as much about feelings as it is about marketing.
You're not going to receive a whole bunch of follow up emails and reminders.
You will not be added into a funnel of any kind.
But if you'd like to talk with other freelancers, coaches, course creators and online business owners about what they're thinking, doing, and how they're taking care of themselves – and hear some of my thoughts?
Then I'd love to have you there.
Free coaching call &
community conversation
for online business owners navigating content marketing, coronavirus & uncertainty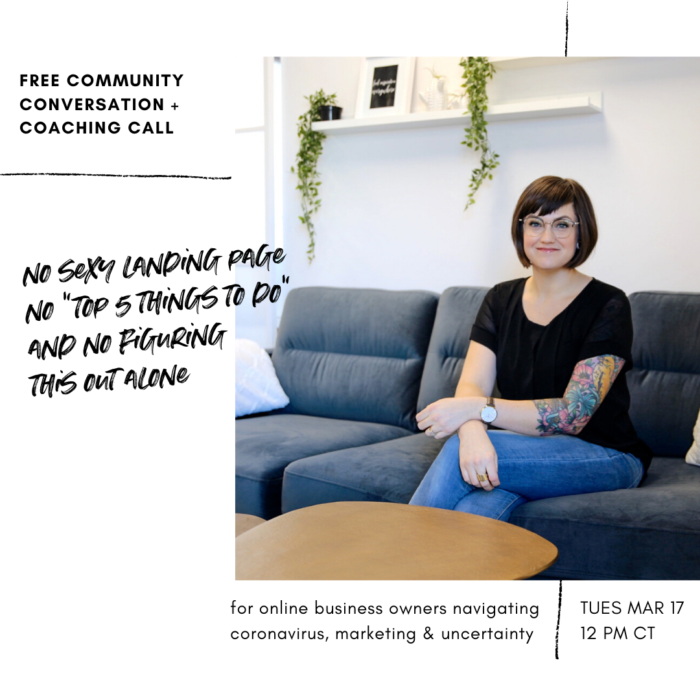 WHEN: Tuesday, March 17th at 12 pm Central Time.
(Click here to see that in your timezone)
WHERE: Live on Zoom
Note: RSVP-ing to this call will not add you to my email list, it will just send you the call details.
Stay safe, fam!