Happy Halloween! One of the things that I've learned about being in business is that there are seasons where you work for your business, when things are calm & business as usual,  and then there are times you work on your business, when you're being the high level, captain of the ship CEO lady who makes big things happen. The past few months have definitely been the latter, and the result has been amazing changes and a buzz of excitement for the new year. I'm so excited that I can finally share them, including a rare opportunity with FND that I'll be sharing tomorrow.
A New Look For Freckled Nest Design
Over the past two years we've seen big changes in what our clients are looking for want, and in how our business runs. We've been working on ways we can take our services to the next level so we're meeting our client's needs better, and so we have more time with each of our clients. We just launched our new teaser site where you can sign up for the private launch of the new re-branded site. This means you get to be the first to see the new package details, and an exclusive chance to book with the designers before the public launch.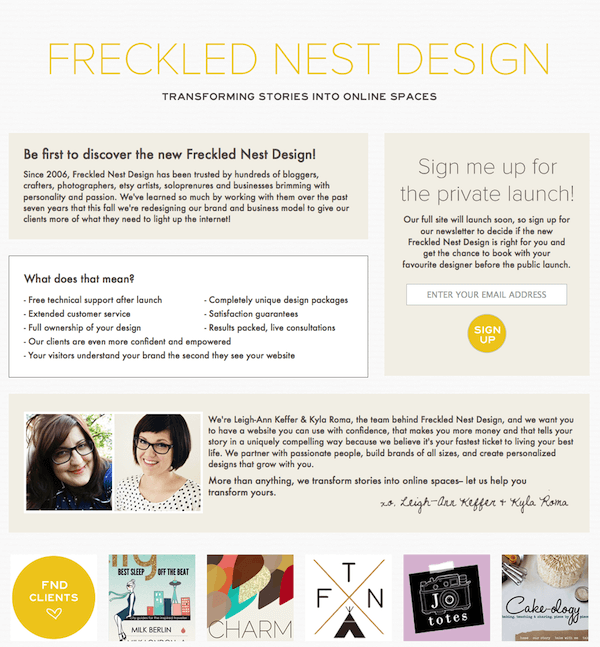 I'm Speaking at MBlog 2012: Blogging in the Big Time!
At the end of November I'm so excited to be a panelist at MBlog 2012: Blogging In The Big Time. It's the first blogging conference in Manitoba and it will feature Babble Editor in Chief & blogger at Her Bad Mother, Catherine Conners. It will be an amazing place to connect with people who are passionate about blogging, social media, marketing, monetization and design and I'm going to talk shop with attendees on the design panel. And at the pre-event networking party, of course. If you're in Manitoba or have been looking for an excuse to visit Winnipeg (who hasn't!) to travel to the prairies I would love to see you there.
The more one on one client consultations I've done with bloggers wanting to build traffic to their blogs or fine tune their brands, the more I've realized that speaking is something I'm really passionate about. This will be a step in an exciting direction, and I can't wait for November 24th! You can register and find all the details here.
…And that's just the start!
Make sure to check back tomorrow for a rare opportunity to get involved with Freckled Nest Design. See you then :)